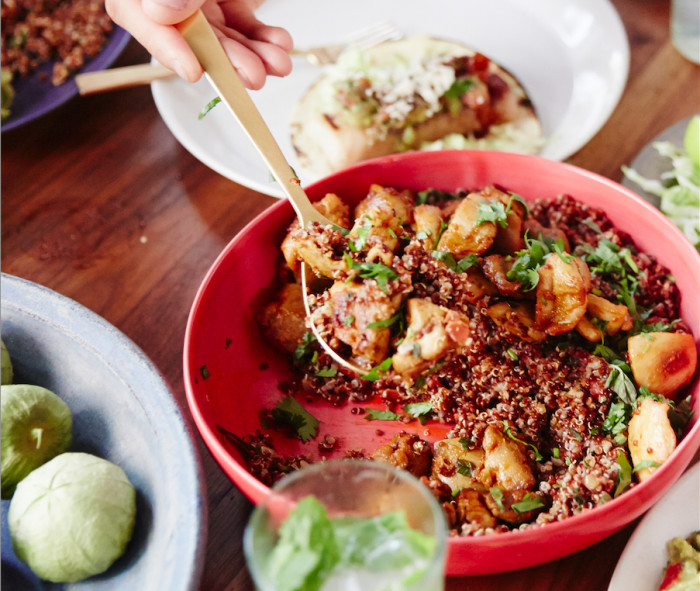 Radio/television personality Angie Martinez and chef/television personality Angelo Sosa might seem like an unlikely pair to team-up for a cookbook. But paging through their new book, Healthy Latin Eating, it's clear that this is no forced vanity project. Martinez, who is known as the "Voice of New York" from her time on Hot 97, is passionate about healthy cooking and these days can be found more often at the farmers market than the radio booth. Sosa, who appeared on Top Chef, has been known to tap into his unique Dominican-Italian heritage when preparing his fresh, flavorful dishes. Plus, they seem to be friends!      
It seems like every Latino family has its own version of arroz con pollo. But no matter how you make it, traditional rice with chicken is heavy on the carbs. That's why I love Angelo's take on this classic. He's replaced the white rice (and all those empty carbs) with quinoa — a whole grain packed with protein, fiber and iron. This dish also goes great with Angelo's Ensalada de Carmen which adds more protein, vitamins and minerals. This dish is not totally traditional, but it's close enough to make everyone in my house happy when I serve it.
Ingredients
5

tablespoons

olive oil

4

boneless chicken thighs (about 1 1/4 pounds), cut into 1-inch cubes

kosher salt

1

tablespoon

spanish paprika

1/4

teaspoon

ground cumin

1/4

teaspoon

ground turmeric

1

cup

Spanish onion, chopped

1

tablespoon

garlic, chopped

1

tablespoon

fresh ginger, chopped

2

cups

dry red quinoa

1 1/4

cups

tomatoes, chopped (canned are fine)

1

tablespoon

fresh oregano, chopped

2

tablespoons

fresh cilantro, chopped, plus sprigs for garnish

1/4

cup

pitted green olives
Directions
In a large bowl, combine 1 tablespoon of the olive oil with the chicken, 1/2 teaspoon salt, the paprika, the cumin and the turmeric.
Toss well and let sit at room temperature for 10 minutes.
Meanwhile, heat 2 tablespoons of the olive oil in a medium saucepan over medium-high heat.
Add the onion, garlic and ginger and sweat until aromatic, about 6 minutes.
Add the quinoa and stir to combine.
Add 2 1/2 cups water and bring to a simmer.
Stir in the tomatoes, oregano and cilantro, then cover.
Remove from the heat and let steam undisturbed for 20 minutes.
In a large skillet over medium, heat the remaining 2 tablespoons olive oil.
When hot, add the marinated chicken and cook until golden on all sides, 3 to 5 minutes.
To serve, fluff the quinoa with a fork.
Season with salt.
Transfer to a large platter, top with the chicken and garnish with the olives and cilantro sprigs.
Find more chicken dishes on Food Republic: