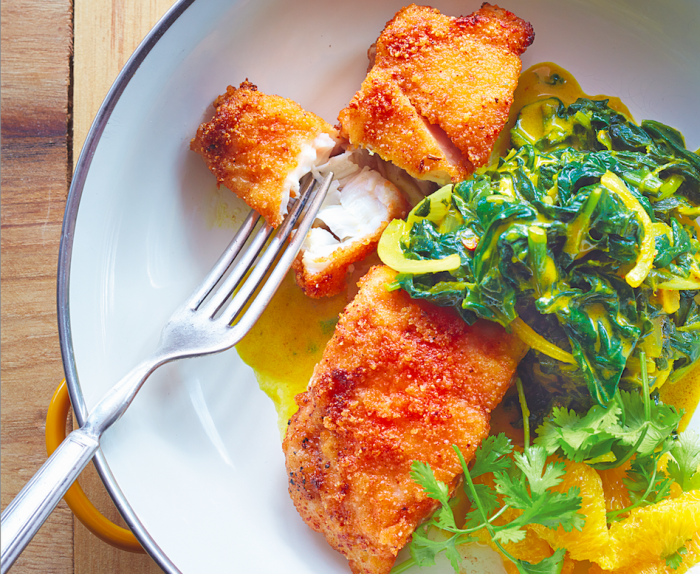 We've been looking forward to Colorado chef, farmer and activist Eric Skokan's cookbook for a while. Farm, Fork, Food isn't just a collection of recipes from his beloved Boulder restaurants, it's a guide to living well, choosing local and seasonal ingredients and upgrading your general outlook on American cuisine.
Crusting fish or seafood in lentils is a fun and easy way to add complexity, crunch and delicious flavor. I discovered the technique while experimenting with making flours from different grains. This lentil crust not only adds texture but a layer of flavor, too. The curry spices seem a fitting accompaniment as does the bright citrus and saag, a traditional curried spinach.
Ingredients
1

medium

onion, diced

1/4

cup

garlic, minced

1

tablespoon

fresh ginger, minced

2

tablespoons

curry powder

4

tablespoons plus 1/4 cup

sunflower oil

8

cups

spinach, chopped

1/4

cup

yogurt

sea salt

2

tablespoons

orange zest, chopped

2

tablespoons

lemon zest, chopped

1

tablespoon

sugar

lemon juice

1

cup

red lentils

1

teaspoon

cumin seeds

1

teaspoon

mustard seeds

1

teaspoon

coriander seeds

2

pounds

grouper, cut into 2-ounce pieces

1

cup

orange supremes

1

cup

fresh cilantro leaves
Directions
In a large sauté pan over high heat, combine the onion, garlic, ginger, curry powder and 2 tablespoons of the oil.
Cook until the onion begins to color, about 4 minutes.
Mix in the spinach and cook until it just wilts, about 5 minutes.
Drain any liquid in the pan through a colander.
Return the spinach to the pan and mix in the yogurt.
Season with salt and set the saag aside.
In a small pot over high heat, combine the citrus zests with enough water to cover and boil for 1 minute.
Strain off the water and replace with fresh water.
Repeat the process three times.
Transfer the zests to a blender.
Add the sugar, lemon juice to taste and 2 tablespoons of the oil.
Purée on high speed until very smooth, about 3 minutes.
With the motor running, add 3 tablespoons water to emulsify the citrus purée.
Season with salt, transfer to a bowl and clean and dry the blender.
Combine the lentils and spices in the clean blender.
Blend at high speed until the lentils are reduced to a powder.
Transfer the lentils to a flat dish.
Season the grouper with salt, then dredge the fish pieces through the lentil mixture, shaking off the excess.
In a large sauté pan over high heat, sauté the fish in the remaining 1/4 cup oil until crisp on all sides, 8 to 10 minutes total.
Arrange the fish on four dinner plates.
Place several spoonfuls of the curried spinach and the citrus sauce alongside.
Garnish with the citrus segments and the cilantro. Serve immediately.
Find more fish dishes on Food Republic: