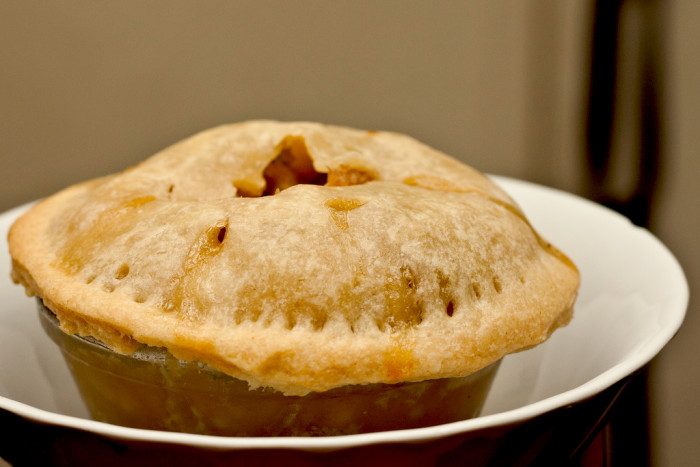 Okay class, this section is coming to a close and I thought I would end it on a high note. Many people have asked me about a classic American food that has been around for many years. It can be hard to find a vegan pot pie. Well the wait is over! I'm tackling the classic savory pastry dish with a twist for spring. I took a traditional meat pie, substituted seitan (my favorite protein) and added some fresh asparagus, leeks and a little habenero pepper for some kick.
Use this recipe for vegan pie crust — it calls for vodka, which is also vegan.
Ingredients
1

recipe for

vegan pie crust, sugar omitted

1/4

cup

vegan butter

1

tablespoon

palm oil

1

cup

leeks, chopped

1

teaspoon

garlic, minced

2

cups

asparagus, chopped into 1/2-inch pieces

1

cup

carrots, small dice

1

cup

frozen peas

1/3

cup

flour

1

teaspoon

sage, finely chopped

1

tablespoon

habanero sauce

1 3/4

cups

vegetable broth

1/2

cup

unsweetened soy milk

1 1/2

cups

seitan (or your favorite faux meat), cut into small chunks
Directions
Preheat oven to 400°F. Make pie crust as directed, and freeze bottom shell in pie plate.
In a medium saucepan over medium high heat, melt vegan butter and palm oil. Add leeks, garlic, habenero peppers and herbs. Sauté until tender.
Add flour and brown to a light roux. Add broth, soy milk, asparagus, carrots, peas and seitan. Cook for 3-5 more minutes on low flame.
Add mixture to frozen pie shell, top with pie shell.
Bake for 35 minutes, remove from oven and allow to set for several minutes before serving.
Tips:
Use a broth with minimal "taste" to it. Some vegan broths can overpower a dish with a very specific flavor.
Brown the seitan or your desired protein in a pan separate with a little oil to enhance flavor.