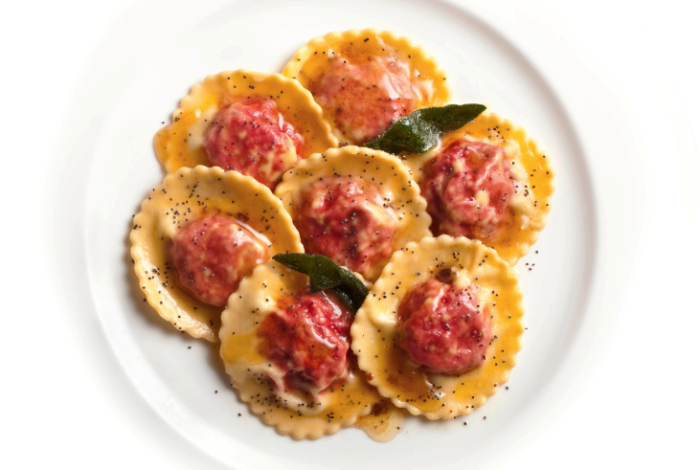 Sometimes we get a cookbook that changes the game. We like cooking our way through as many of the season's great books as we can, but now that the chefs at the Culinary Institute of America have provided us with the ultimate guide to simple yet innovative pasta recipes (plus everything you needed to know about polenta and crespelle), game on! First up, ravioli filled with buttery beets and fresh sage. Bet you've never had that before.
The chefs' advice? We're on board.
"You can add bacon or prosciutto to the stuffing for a more complex flavor."
Ingredients
2

ounces (1/4 cup)

unsalted butter

1

medium

yellow onion, diced

4

sage leaves, finely chopped

1 1/2

pounds

beets, peeled and diced

1/2

cup

water

3/4

cup

grated Parmigiano-Reggiano

1/2

cup

fresh ricotta

2

egg yolks

1/2

teaspoon

finely grated orange zest

Kosher salt and freshly ground black pepper, as needed

plain dry bread crumbs, as needed

1

pound

pasta sheets

flour, as needed

4

ounces (1/2 cup)

unsalted butter

12

sage leaves

3/4

cup

grated Parmigiano-Reggiano

poppy seeds, as needed
Directions
Heat a large sauté pan over medium heat. Add the 1/4 cup of butter and let melt (it should foam but not darken in color). Add the onion and chopped sage and cook, stirring frequently, until the onion is tender, about 4 minutes. Add the beets and water. Cover, bring the liquid to a simmer, and cook, adjusting the heat as necessary, until the beets are tender enough to mash easily with a fork, about 25 minutes.
Remove from the heat and let the beets cool before chopping them finely with a knife or in a food processor. They should be fairly smooth. (If they are too wet, drain them in a colander or a sieve lined with a clean cloth.) Transfer to a large bowl.
Add the 3/4 cup of the Parmigiano-Reggiano, the ricotta, egg yolks, orange zest, salt, and pepper, as needed, and stir with a wooden spoon until blended. The filling should be firm enough to mound when dropped from a spoon. If it is soft enough to run off the spoon, add some bread crumbs to help it hold together. Reserve in the refrigerator while you prepare the pasta dough.
Lay one of the pasta sheets flat on a lightly floured work surface. Using a pastry brush, lightly wet one side of the dough with water. Spoon the filling onto the wet side of the dough, mounding about 2 tablespoons of the filling for each raviolo. There should be about 2 inches between the mounds so that you can cut individual ravioli.
Place a second pasta sheet on top of the first one. Press the dough together to seal the sheets together along the edges and around the filling, creating little pockets of filling.
Using a fluted or plain biscuit cutter, cut out round ravioli. As you cut out the ravioli, place them on a plate or baking sheet sprinkled with flour to keep them from sticking.
Bring a large pot of salted water to a boil over high heat. Add the ravioli and stir to submerge and separate them. Cook, uncovered, until the pasta is just tender to the bite, 5 to 6 minutes. While the pasta is cooking, melt the 1/2 cup butter with the whole sage leaves in a small sauté pan over medium heat until the butter begins to brown.
Drain the ravioli in a colander. Shake gently to remove excess water. Transfer the drained pasta to a large heated serving bowl and top with the butter-sage sauce. Serve at once, sprinkled with poppy seeds.
Try out these Italian cuisine recipes on Food Republic: