Ratatouille Risotto Recipe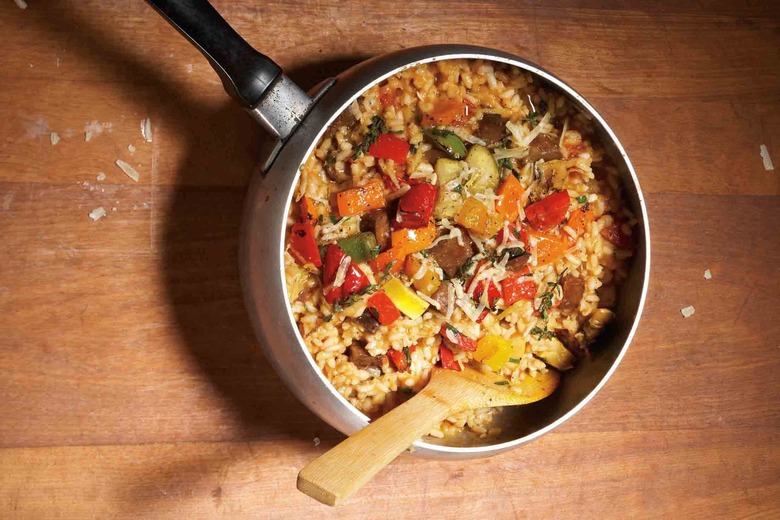 No mouse has touched this risotto.
Rice once ruled the river marshes outside colonial Charleston, and risotto is kin to our traditional low-country pilau. Although I often use heritage Carolina Gold grain, classic risotto is made with Arborio rice, originally found in Italy's Po Valley but now grown in Texas. Arborio is a stubby, milky grain that heat-releases amylopectin, a starch that gives risotto its creamy but chewy texture. Charleston's historic influence also shows up in the Spanish-tinged sofrito, a mixture of aromatics cooked so slowly, it almost melts away. And because we're at the height of summer's produce season, I load in ratatouille-style vegetables from my own farm. Your local green market should be just as plentiful. Remember that freshly picked vegetables have a shiny exterior, and that squash and eggplant should feel "tight" (squishy = loaded with water = soggy). Once you get the technique down, stop short of adding the tomatoes and create your own variation. This is just your gateway recipe.
Ratatouille Risotto Recipe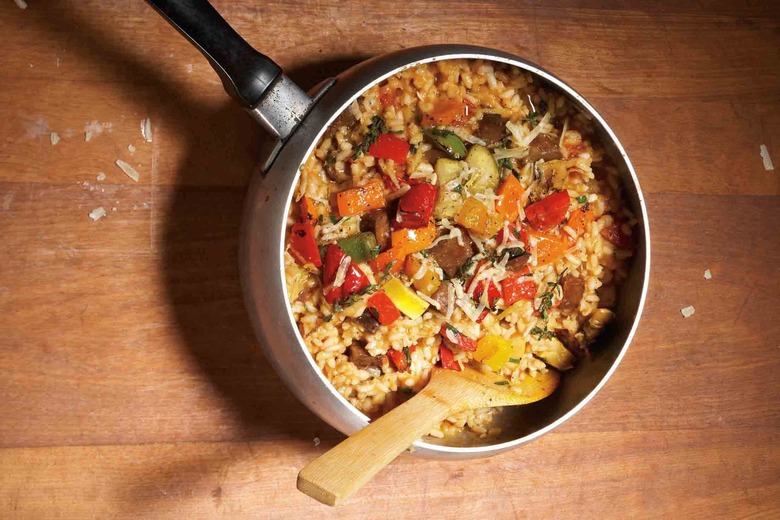 Ingredients
1 1/2 cups bell peppers
1 1/2 cups Japanese eggplant
1 1/2 cups zucchini
1 1/2 cups yellow squash
1 tablespoon balsamic vinegar
3 tablespoons olive oil
3 basil leaves
fresh thyme leaves
2 tablespoons flat- leaf parsley
1 (15- ounce) can San Marzano tomatoes
5 cups vegetable stock
1 tablespoon olive oil
2 small shallots
6 cloves garlic
1 cup arborio rice
1/2 cup dry white wine
2 bay leaves
1 tablespoon lemon zest
1 cup Parmigiano- Reggiano cheese
coarse salt and freshly ground pepper
Directions
Preheat the oven to 450ºF. Combine the peppers (whatever color), eggplant, zucchini, and squash in a bowl.
Add the balsamic vinegar, olive oil, a few basil leaves torn into pieces, leaves from a few sprigs of fresh thyme, and parsley. Toss to coat and spread in a single layer on a large baking pan; overcrowding will cause vegetables to steam rather than brown.
Place in the oven and do not mess with it. Just roast until golden brown, 12 to 15 minutes. Remove and set aside.
Drain the liquid from the tomatoes into a saucepan and add the stock. Bring to a boil and lower the heat to a simmer. This mixture must be kept hot during the cooking process.
Put the tomatoes in a bowl and mash them into chunks using the back of a wooden spoon. Don't pulverize, or the tomatoes will disintegrate into the risotto. Set aside.
In a 6- or 8-quart stockpot, melt the butter with the olive oil over low heat. Add the shallots and garlic, cooking slowly until they almost look like a puree (called a sofrito). Do not brown. This will take about 10 minutes.
Remove the sofrito, blot the pot with a paper towel, and return it to the stove over medium heat.
Note the time on the clock. Add the rice and use a wooden spoon (the edges aren't sharp enough to damage the kernels) to move it around the pot so it toasts and starts to smell a little like nuts. It'll take 4 to 5 minutes.
Add the wine and slowly cook it down, gently stirring. Add the sofrito, stirring to coat. Begin adding the hot stock mixture about 1/2 cup at a time, and stir after each addition until the liquid is absorbed so the rice loses its starch and thickens the mixture.
Toss in the bay leaves after the third addition of stock; about 15 minutes into the cooking process, add the tomatoes. You might not end up using all the stock mixture.
When the rice is cooked— 25 or 30 minutes total, although tasting is the best test—take the pot off the heat and gently stir in the ratatouille. Sprinkle in the zest to give it some brightness, and gently stir in the 1 cup cheese.
Season with salt to taste. Transfer to serving plates and pass extra cheese and a pepper grinder on the side.