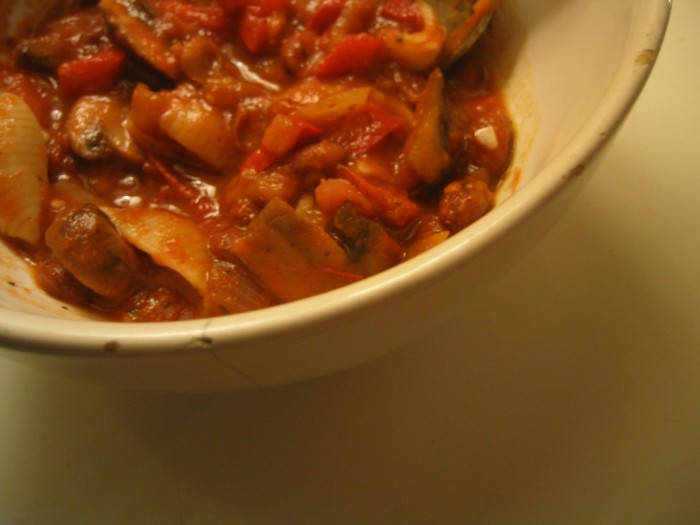 Ratatouille is a vegetarian stand-alone dish or a flavorful sidekick to a beef or game main course. Its roots trace back to Provence in the south of France, where it's essentially a comfort food. Here on Food Republic, it's an excellent chance to try out that herbes de Provence mixture we encouraged you to make in our Guide To Herbs.
Advanced cooks: What do you like to add to your ratatouille for that personal signature touch? Let us know in the comments.
Ingredients
2

pounds

eggplant, cut into 1- inch cubes

2 1/2

pounds

tomatoes, seeded, and cut into 1/4- inch cubes

1 1/2

pounds

yellow onions, thinly sliced

1 1/2

pounds

bell pepper, assorted colors, cut into 1- inch pieces

8

cloves

garlic, thinly sliced

1

cup (approximately)

extra virgin olive oil

1 1/2

tablespoons

herbs de Provence, dried, if using fresh herbs triple the amount

1

pound

zucchini, cut into 3/4- inch half moons (remove seeds from larger zucchinis)

1

pound

yellow squash, seeded, cut into 3/4- inch pieces

1

teaspoon

black pepper

2

teaspoons

kosher salt
Directions
Toss eggplant in 1/2 teaspoon salt and place in a colander. Let stand in the sink for 30 minutes. Pour eggplant onto several paper towels and blot to remove excess moisture.
In a heavy-bottomed, 5-quart pot over medium heat, add onions and approximately 4 tablespoons of oil. Season with about 1/2 teaspoon salt. Cook for about 4 minutes until onions are soft, stirring occasionally.
Add peppers and cook for another 4-8 minutes, adding enough oil to keep mixture quite moist. Add garlic, cook for another 5 minutes.
Add tomatoes, herbs de Provence* and about a 1/3 cup oil. Cover partially to allow steam to escape. Cook for 30 minutes until tomato starts to break down, stirring occasionally.
Put eggplant into simmering mixture along with enough remaining oil so vegetables are quite moist, but not swimming. Cook for 30 minutes, stirring occasionally.
Place zucchini and yellow squash in mixture and cook until they are just soft, approximately 6 to 8 minutes. Add pepper. Check seasoning.
May be served hot, warm, or at room temperature. Improves when refrigerated overnight and reheated.
*If using fresh herbs de Provence add at the end of the cooking time just before serving.