Ratatouille Pita Sandwiches, Straight From Paris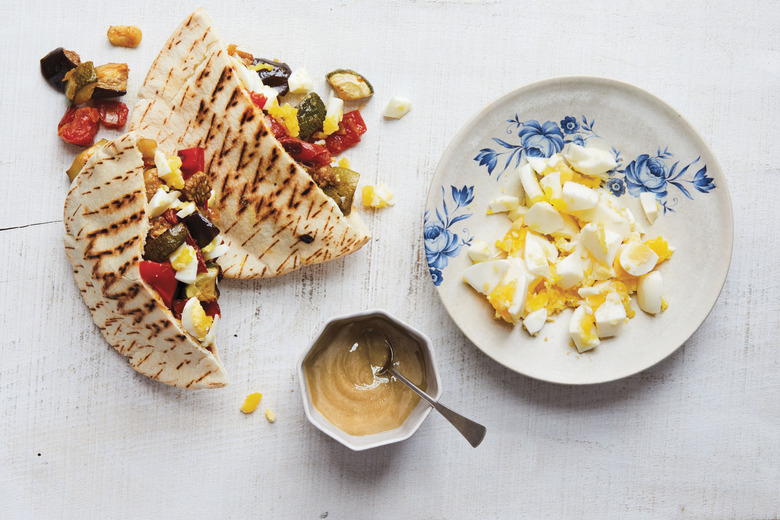 We may receive a commission on purchases made from links.
Modern and classic Parisian recipes abound in Tasting Paris, by renowned blogger and author Clotilde Dusolier of Chocolate & Zucchini. Pick up a copy and freshen up your French repertoire in time for your next gathering. These pita sandwiches are the perfect way to enjoy ratatouille on the go.
The small streets of the Marais neighborhood are so charming it hurts, and if you lose yourself in their maze, you will likely happen upon the tiny Jewish quarter around rue des Rosiers. It is here, among the many Ashkenazi delis, that you'll find Miznon, which quickly stole the heart of Parisians. Created by celebrated Tel Aviv chef Eyal Shani, the tiny place has just a few seats and an open kitchen churning out the most flavorful pita sandwiches I've ever tried. The big and fluffy house-made pockets are stuffed to the gills with grilled lamb, herbed chicken salad, or ratatouille and chopped hard-boiled eggs dressed with tahini sauce. (Though they are plenty satisfying, keep room for the "burnt cauliflower" served whole and deliciously charred.)
I can't give you a recipe for the high-energy ambience of Miznon, the crowd spilling out onto the narrow street and the waitstaff shouting names when orders are ready, but I can help you re-create my favorite vegetarian sandwich.
Notes: As a further departure from the classic, I sometimes add a lemon (preferably organic), sliced into 8 wedges, to roast with the vegetables.
Ratatouille is even better the next day, and it freezes well, too.
Ratatouille Pita Sandwiches, Straight From Paris
Inspired by the popular Marais street food (via Israel and the Middle East), these pita sandwiches are delicious anywhere you choose to make (and eat) them.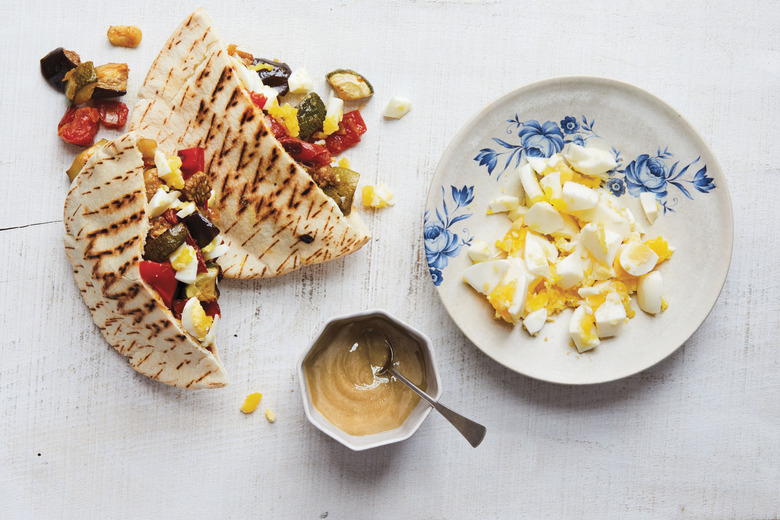 Ingredients
2 tablespoons tahini
1 tablespoon freshly squeezed lemon juice
1/2 teaspoon fine sea salt
2 large pitas (about 3 ounces)
1 1/2 cups Oven-Roasted Ratatouille
2 steamed hard-boiled eggs
fine sea salt
2 medium eggplants
2 medium zucchini
4 tomatoes
1 red bell pepper
1 medium yellow onion
2 garlic cloves
2 sprigs fresh rosemary or 1/2 teaspoon dried
2 sprigs fresh thyme or 1/2 teaspoon dried
1/4 cup olive oil
1 1/2 teaspoons fine sea salt
fresh basil
Directions
:::ratatouille:::
Preheat the oven to 350°F (175°C).
Put the eggplants, zucchini, tomatoes, bell pepper, onion, garlic, rosemary, and thyme on a large rimmed baking sheet. Drizzle with the olive oil, sprinkle with the salt, and toss well with your hands. Hide the garlic under the vegetables so it won't burn. Cover loosely with foil and bake for 45 minutes. At this point, the vegetables should be cooked through but not colored. Remove the foil and bake for another 30 minutes, keeping an eye on the progress, until the vegetables have browned to your liking.
Remove the herb sprigs and prep the sandwiches.
:::tahini sauce:::
In a small bowl, stir together the tahini, lemon juice, and salt. Add 1 tablespoon water, stirring until smooth. Taste and adjust the seasoning, adding lemon juice or salt if needed.
:::sandwiches:::
Warm the pitas in the toaster. Halve them to make half-moon pockets; each person gets two half-pockets. Spoon tahini sauce into each pocket, follow with ratatouille and eggs, and add a pinch of salt. Serve immediately.