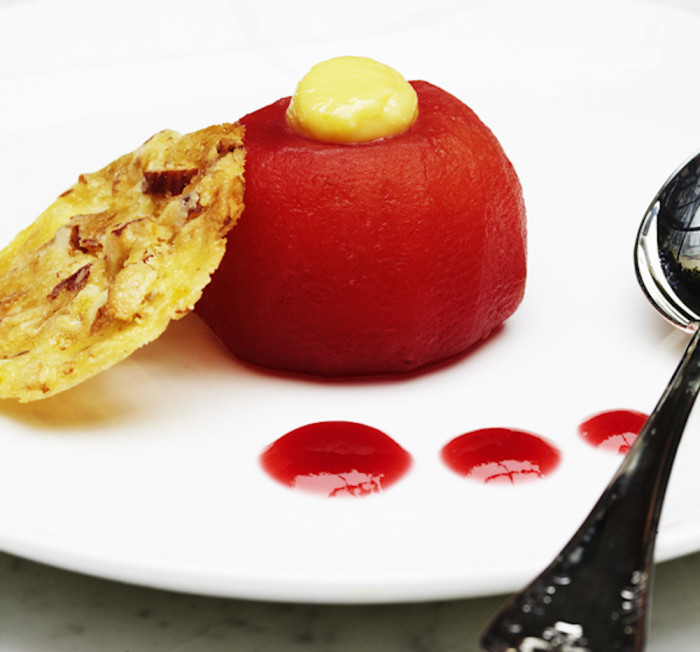 Nils Noren is the Vice President, Restaurant Operations for the Marcus Samuelsson Group (full disclosure: Samuelsson is a co-founder of Food Republic). This fall, Noren will release a cookbook in Swedish, 10 Techniques, 100 Recipes. Here, he gives us a sneak peek (albeit in English). Follow him on Twitter at @nilsnoren.
"I try to use fresh ingredients as much as I can, but sometimes frozen berries are a better option. For this raspberry poached apples recipe, I use frozen raspberries because they will be pureed — often, frozen berries and fruits are picked in peak season and have better flavor than fresh products that are out of season," says Noren.
Following the recipe for the white chocolate and fennel cream that tops the dessert will yield a pretty large volume ("you can cut the recipe in half but it makes it actually harder to make," according to Noren). But we're sure you'll be able to find a use for the delicious leftovers.
Ingredients
For the poached apples
2

cups

frozen raspberries

2

cups

water

1

cup

sugar

4

small

apples
For the white chocolate and fennel cream
2/3

cup

milk

2

cups

heavy cream

1

tablespoon

fennel seeds

4

egg yolks

12

ounces

white chocolate

1/2

cup

unsalted butter

2

sheets

gelatin
Directions
Place the raspberries, water and sugar in a blender. Blend until smooth and strain.
Pour the raspberry liquid into a pot. Peel and core the apples and place them in the liquid.
Bring to a simmer and cook the apples until they are tender all the way through but not mushy — use a cake tester or paring knife to check.
Take the apple and set aside. To make the sauce; reduce the raspberry liquid until it develops a saucelike consistency.
Set aside to cool.
To plate, place an apple in the middle of a shallow dish or bowl, drizzle sauce around it and garnish as desired.
For the sauce:
Bring milk and cream to a boil with the fennel seeds in a medium saucepan.
Whisk the egg yolks together in a large bowl, then strain the milk and cream over them, whisking constantly while doing it (this will prevent the eggs from cooking).
Transfer the mixture back to the pot and heat up until it reaches 180F, then stir with a wooden spoon.
Bloom the gelatin in cold water for 5 minutes, then squeeze out the water.
Add in the chocolate, butter and gelatin, blend with a hand blender until smooth.
Cool down, then pour over the apples and serve.