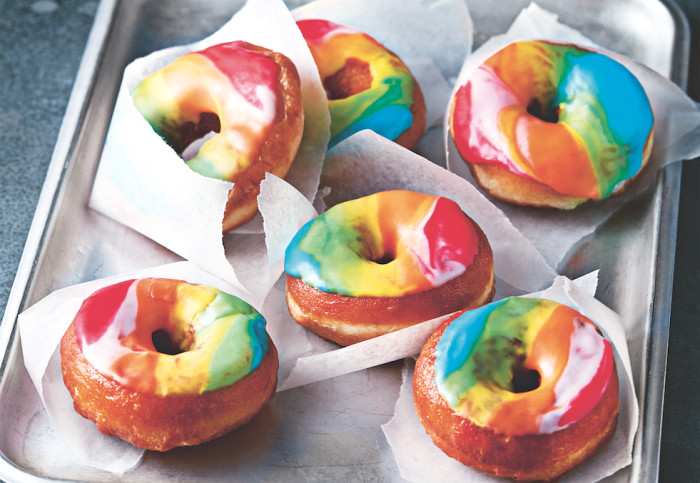 Surely you've seen the advent of multicolored cuisine hitting today's hottest food porn streams. Whether you call it unicorn, rainbow, tye-dye or what have you, there's no way around it — this stuff is colorful, cute and (frequently) delicious. Learn how to make these rainbow glazed doughnuts from scratch and prepare to delight your dessert guests. 
These rainbow glazed doughnuts are light and chewy and guaranteed to get even the laziest person out of bed on the weekend!
Deep-fry the center cut-outs from the donuts in the hot oil for 1 to 2 minutes, then drain and serve warm or cold, tossed in extra superfine sugar, if you like.
Ingredients
3 2/3

cups

white bread flour, plus extra for dusting

1/4

cup

superfine sugar

1

teaspoon

fine salt

1/2

cup

unsalted butter, chilled and cubed

1/4

ounce packet

active dried yeast

2/3

cup

hand-hot water

2

large eggs, lightly beaten

1

quart

sunflower oil, for deep-frying, plus extra for greasing
To Decorate
3

cups

powdered sugar food coloring pastes (blue, green, yellow, orange, pink and red)
Materials
1 1/4-inch round cookie cutter
Candy thermometer
Directions
For the doughnuts
Lightly grease a large bowl and grease two baking sheets. Sift the flour, sugar, and salt into a large bowl and then using your fingertips, rub in the butter until the mixture resembles breadcrumbs. Fold through the dried yeast.

Pour over the warm water and mix until combined. Then add the eggs and mix with a wooden spoon until the mixture forms a dough. Turn out onto a lightly floured surface and knead for 10 minutes by hand (or alternatively, use a stand mixer fitted with a dough hook) until the dough springs back when pressed.

Place the dough in the greased bowl and cover loosely with oiled plastic wrap. Let rise in a warm place for 1 to 2 hours, or until doubled in size.

Knock the air out of the risen dough by kneading it for 2 minutes on a floured surface. Divide the dough into 16 equal pieces, then shape each one into a smooth ball (do this by rolling each one on the surface with the palm of your hand). Place the dough balls on the prepared baking sheets, leaving room for them to expand as they prove. Cover loosely with oiled plastic wrap and let prove in a warm place for a further 1 hour, or until doubled in size.

Lightly oil the cookie cutter and use it to stamp out the middle of each donut. Discard the centers or see Cook's Tips (in intro) for how to make mini donuts from the centers!

Pour the sunflower oil into a large, deep saucepan and heat the oil to 325°F, using the thermometer to check it's hot enough. Drop two or three donuts into the oil, one at a time, and deep-fry on each side for 2 to 3 minutes, or until goldenbrown. Remove with a slotted spoon and place on a plate lined with kitchen paper to soak up the excess oil. Repeat with the remaining donuts (ensuring the oil is brought back up to temperature for each batch) until they are all cooked.

To make the icing, put the powdered sugar in a bowl and stir in 4 to 5 tablespoons of cold water until smooth — you want a thick but still runny consistency. Divide the mixture into six smaller bowls, then stir a little food coloring paste into each portion.

Using a teaspoon, draw a ½-inch thick line of one of the colored icings, onto a plate, just longer than the width of your donuts, then repeat with the remaining colored icings, placing them side by side (with all the lines touching to create a square-ish rainbow). Press the base of one of the cooled donuts into the icing and gently drag and lift to the side. Dragging is important to get the icing to stick to the donut. Dip another donut into the icings in the same way. Set them aside on a serving plate.

Repeat with the remaining colored icings and donuts, remembering to refresh your icing lines on the plate after every two donuts.

Leave the decorated donuts to set for 30 to 60 minutes somewhere cool (but not the refrigerator). These donuts are best eaten fresh, though you can store them in an airtight container (with wax paper between each layer) for up to 3 days.