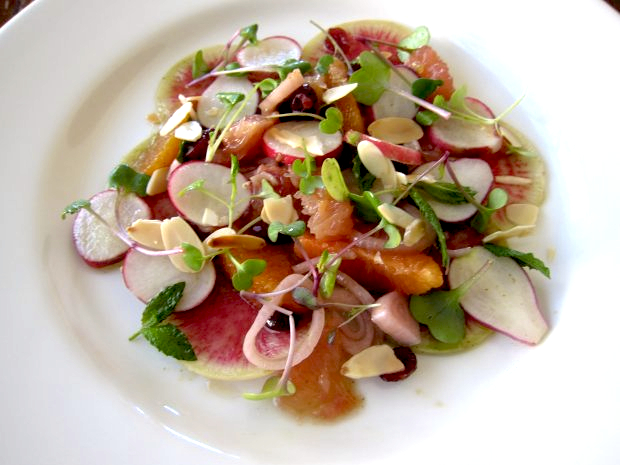 We recently drove about two hours north of New York City to visit with Josephine Proul, executive chef at the farm-to-table restaurant Local 111 in small-town Philmont, to see what's on her early spring menu. This salad draws from Florida's in-season citrus, plus radishes and other ingredients sourced from Northeast producers.
Proul tells us that the idea for this salad was that it'd be like a radish crudo, made with thinly sliced watermelon and Easter egg radishes. "Some people think radishes are spicy or bitter, but this salad has some contrast in it," she says. There's citrus for acidity, a mint vinaigrette for texture and freshness and almond, "which plays like cheese or meat for a rounding effect," she explains.
Ingredients
Salad
2

Watermelon radishes

1

bunch

Easter egg mix radish

1/4

cup

soaked cranberries (equal parts cranberry juice and rosé)

1/4

cup

candied shallots

1

ruby red grapefruit, segmented

1

cara cara orange, segmented

1/8

cup

toasted almonds

preferred amount of

mint vinaigrette

micro greens, for finishing

Salt and pepper, to taste

mint leaf, for garnish
Dressing
1/4

bunch

mint

2

cloves

garlic

1

shallot

1

teaspoon

buckwheat honey

1 1/2

tablespoons

Dijon mustard

Salt and pepper, to taste

1/4

cup

champagne vinegar

3/4

cup

pure olive oil
Candied Shallots
4

shallots, sliced thin on a mandolin

2

sprigs

thyme

pinch of

Salt and pepper

1/4

cup

sugar

1/3

cup

champagne vinegar
Directions
For the dressing
In a blender put everything except the oil, and mix to a purée.

Slowly add the oil while blending on low to make the emulsification.

Taste and adjust seasoning.
For the candied shallots
In a small sauce pot, heat sugar and vinegar to a simmer.

With a mandolin, slice shallots thin and place in a bowl and toss with salt and pepper and the thyme springs.

Pour the hot vinegar mixture over seasoned shallots, set aside to cool, stirring once or twice to make sure all shallots are in the liquid. * You can always press with another small bowl to avoid stirring.
For assembly
With a mandolin, slice watermelon radish thin and place in cold water. Also slice the Easter egg radish oblong about 1/4-inch thick and place in cold water. The water helps bleed out some color so it doesn't change the whole salad pink. Soak for about 10 minutes.
In a mixing bowl, add the drained-soaked radishes, orange and grapefruit segments, mint, candied shallots and cranberries, mint vinaigrette season with salt and pepper. Toss together, taste and adjust seasoning if necessary.
On a large round plate assemble the salad with the thin slices or watermelon radish on the bottom spread out carpaccio-esque, spread out the remaining salad, top with micro greens and toasted almonds.
Try out these salads on Food Republic: