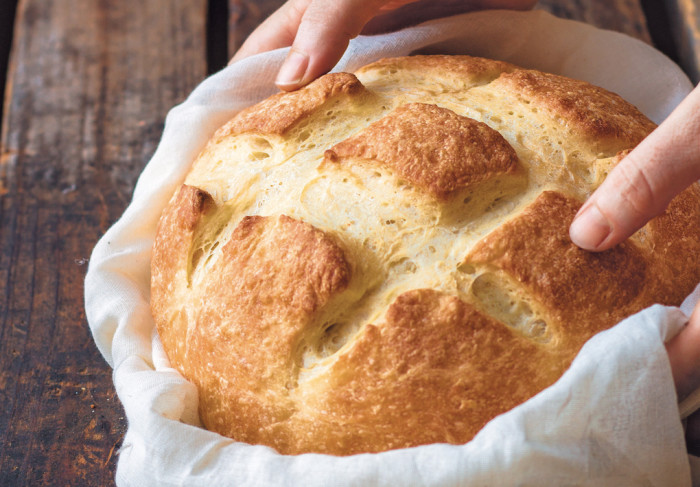 Go beyond kimchi, kraut and yogurt and discover a world of foods you never even knew could be fermented. Check out this new collection of recipes from cook, author and homesteader Shannon Stonger, and prepare to cultivate some favorite new dishes. Learn to bake this sourdough farm loaf and never buy store-bought again. 
With flour, salt, starter and water, this bread is an everyday loaf for serving with soups, dunking in olive oil or toasting for breakfast. It is chewy, light and tangy — all that you look for in a loaf of sourdough bread. You can enrich it with honey and butter, but whatever you do, try not to add much flour when kneading. I learned this broken-up kneading technique from the great Peter Reinhart, and it really works to avoid a dense, heavy bread brought on by too much flour.
Reprinted with permission from Traditionally Fermented Foods
Ingredients
5 1/2

cups

flour

2 1/2

teaspoons

sea salt

1

cup

sourdough starter

1 1/2

cups

water

3

tablespoons

honey (optional)

3

tablespoons

softened butter (optional)
Directions
For the loaf
Combine the flour and salt in a large mixing bowl. Make a well in the middle of the flour and add the starter, water, honey and softened butter if using. Mix all ingredients well with a wooden spoon until a rough dough begins to form.

Knead the dough in the bowl for a couple of minutes. It will be shaggy and sticky at this stage. Let the dough rest for 5 minutes. Return to the dough and knead it for 3 minutes. Let the dough rest for 2 more minutes and then give it a final 1- to 2-minute knead until smooth and soft.

Cover the bowl tightly and allow the dough to ferment for 8 to 12 hours or overnight.

When ready to bake, uncover the bread and grease a large baking pan. Divide the dough in half and shape it into a round boule or a long batard. Place on the greased baking sheet, leaving a couple of inches between the loaves. Sprinkle the surface of the loaves with flour and cover with plastic wrap or a damp towel to rise. Leave for 1 to 2 hours until risen by 50 to 75 percent.

During the last 30 minutes of rise time, preheat the oven to 400°F (204°C). Once the oven is hot and the dough has risen substantially, uncover. Give the dough a few slashes with a razor or very sharp knife. Place the loaves in the hot oven and bake for 35 to 40 minutes or until the bottom sounds hollow when tapped and the internal temperature has reached 190°F (88°C).

Move to a cooling rack and allow to cool for at least 20 minutes before serving.