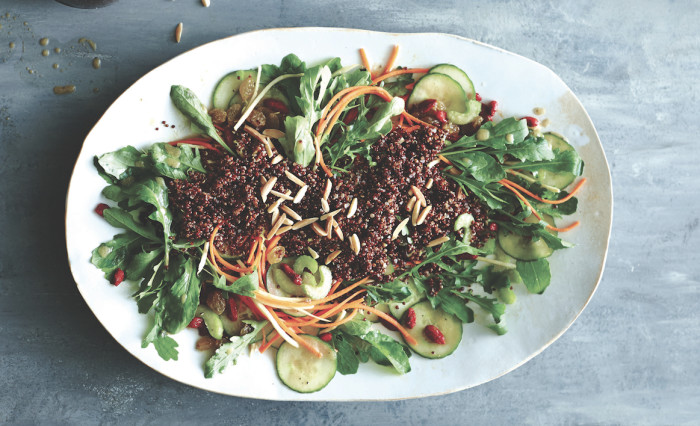 Clean and healthy cooking has never been easier, with nutrition expert Sam Talbot's new cookbook. Ditch anything artificial or processed and get ready to start from scratch. This quinoa and vegetable salad is the gold standard of lunchtime fortification. 
Fresh, crunchy, and earthy — this is a colorful salad that can be served on its own or with grilled shrimp or chicken. The red quinoa lends pretty color, but regular quinoa also works here.
Ingredients
1 1/2

cups

water

1/2

teaspoon

kosher salt

1

cup

uncooked red quinoa

1

tablespoon

lemon zest, plus 2 tablespoons fresh lemon juice (from 1 lemon)

1/4

cup plus 1 teaspoon

olive oil

4

cups

firmly packed baby arugula

1

cup

grated peeled carrots

1

cup

grated peeled parsnips

1/2

cup

thinly sliced celery

1/2

cup

thinly sliced English cucumber

1/4

cup

dried goji berries

1/4

cup

golden raisins

2

tablespoons

sherry vinegar

1

tablespoon

Dijon mustard

1

teaspoon

raw honey

1/2

teaspoon

black pepper

1/2

cup

toasted slivered almonds
Directions
For the salad
Bring 1 1/2 cups water and 1/4 teaspoon of the salt to a boil in a medium saucepan over high. Stir in the quinoa, and reduce the heat to medium-low. Cover and simmer until done, about 15 minutes. Remove from the heat, and let stand 5 minutes. Fluff with a fork, and stir in the zest, juice, and 1 teaspoon of the oil. Set aside.

Toss together the arugula, carrots, parsnips, celery, cucumber, goji berries, and raisins in a large bowl. Whisk together the vinegar, mustard, honey, pepper, remaining 1/4 cup oil, and remaining  1/4 teaspoon salt in a small bowl. Drizzle the vinegar mixture over the arugula mixture in the large bowl; toss to coat.

Place about 2 1/2 cups of the salad into each of 4 bowls; top  with about 2/3 cup of the quinoa mixture. Sprinkle each with  2 tablespoons almonds.