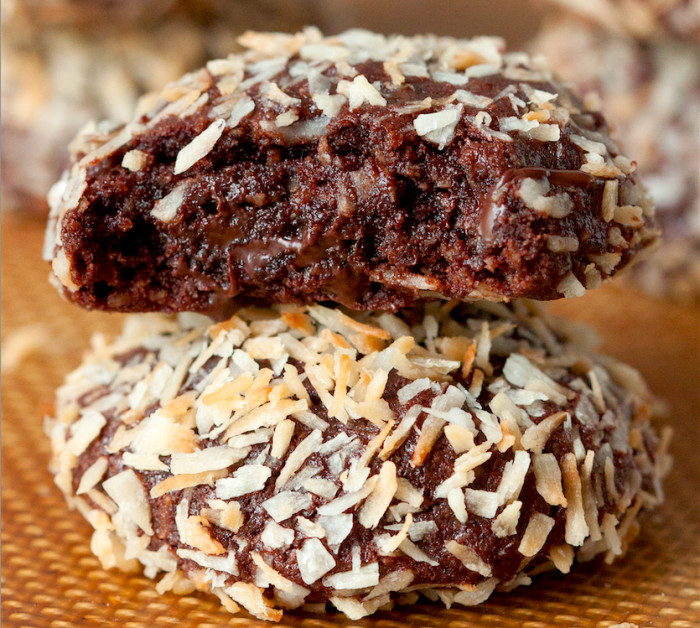 Whole grains can and should be a big part of dessert — why not? They're substantially healthier, and you don't have to sacrifice flavor, creaminess or heft. Blogger Erin Dooner's new book, The Sweet Side of Ancient Grains, is a testament to baking with barley, spelt, buckwheat and other whole grains. Add coconut to quinoa and chocolate in these cookies, and see if you can keep yourself from eating more than one!
These chocolaty cookies are perfectly chewy and so very hard to resist! Chocolate is definitely the dominant flavor here, but roasting the coconut helps bring out the coconut taste. If you skip that step, the cookies won't have much of a coconut flavor. Rolling them in coconut is also optional — if you don't want to do that, only roast 1 cup of coconut.
Reprinted with permission from The Sweet Side of Ancient Grains
Ingredients
2

cups

unsweetened coconut flakes, divided (or only 1 cup if you prefer not to roll the cookies in coconut)

1 1/2

cups

oat flour

1 1/2

cups

toasted quinoa flour, or 1 1/3 cups whole-wheat flour

1/2

cup

Dutch-process cocoa powder, sifted if lumpy

3/4

teaspoon

baking soda

1/2

teaspoon

salt

1

cup

light brown sugar, raw sugar, or coconut sugar

2/3

cup

coconut oil, melted

2

large eggs, room temperature

6

tablespoons

honey

1

teaspoon

coconut extract or vanilla extract

2

tablespoons

water, only if using quinoa flour

1

cup

semisweet chocolate chips (optional)
Directions
Spread the coconut flakes on a small rimmed baking sheet. Bake for 3 minutes, stir, and if not yet brown, bake for another 1 to 3 minutes or just until the coconut starts to brown. It will brown quickly, so keep a close eye on it. Remove the baking sheet from the oven and let the coconut cool for 5 minutes or until no longer hot. Measure out 1 cup of coconut flakes and keep the rest on the baking sheet.
In a medium mixing bowl, stir together 1 cup toasted coconut flakes, oat flour, quinoa flour or whole-wheat flour, cocoa powder, baking soda, and salt. Set aside.
In a large mixing bowl, stir together the sugar, melted coconut oil, eggs, honey, coconut extract or vanilla extract, and water (only if making the version with quinoa flour). Add the dry mixture to the wet mixture from the previous step and stir until just combined. Fold in the chocolate chips, if using. If making the quinoa-flour version, your dough will possibly be firm enough to roll into balls. If it is, skip to the next step. If making the whole-wheat version (or if your quinoa-flour version is a little wet), wrap the dough in plastic wrap and refrigerate for at least 30 minutes or until it is no longer sticky and easy to roll into balls. Once chilled, remove the dough from the refrigerator and let it sit for 5 to 10 minutes while preheating the oven to 350°F.
Form rounded tablespoons of dough and roll the balls in the remaining 1 cup of toasted coconut. Place the balls on the prepared baking sheet, about 2 inches apart. Bake for 6 to 9 minutes or until no longer wet on the top. They may crackle a little. If you break one open, they may not appear fully cooked but they will continue to cook as they cool.
Let the cookies sit for 2 minutes on the baking sheet and then transfer to a wire rack to cool completely. Store in an airtight container at room temperature for up to 3 days.
Can't get enough cookies? Find some more cookie recipes on Food Republic: