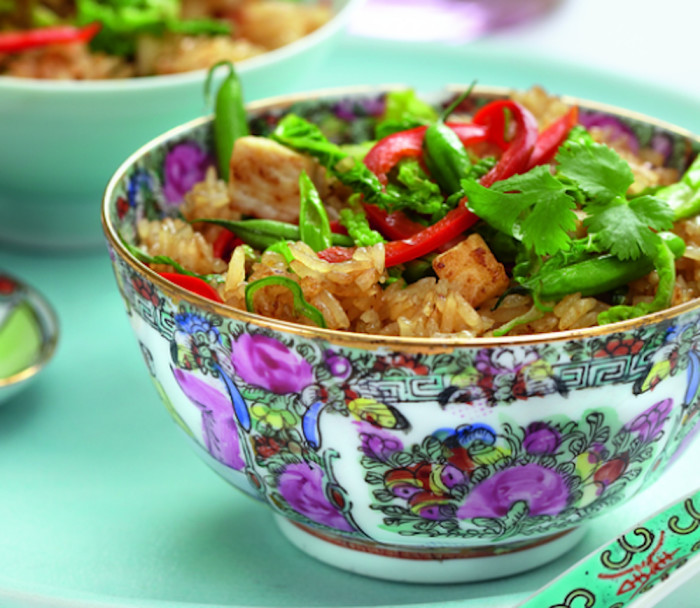 I'm a bit of a fan of fried rice. It's just that the word "fried" doesn't instill confidence for those on a low-fat diet. However, I've discovered a different method that produces a similar effect, but doesn't need very much fat.
Ingredients
2

cups

microwavable long-grain rice*, cooked

spray of

vegetable oil

4

scallions, finely sliced

2

long green peppers, finely sliced

1

red bell pepper, seeded and cut into thin strips

4

ounces

extra fine green beans, cut into 1-inch pieces

1/3

cup

frozen green peas, defrosted

1/4

head

Savoy cabbage, washed and shredded

12

ounces

skinless chicken, diced

1

tablespoon

dark brown sugar

1/2

chicken stock cube, crumbled

2

tablespoons

low-sodium soy sauce

2

tablespoons

sweet chili sauce

1/2

bunch

cilantro, roughly chopped
Directions
Preheat the oven to 400°F.
Line a shallow baking pan with nonstick parchment paper. Tip the rice onto the paper, breaking up any lumps, and spray the surface with oil. Place in the oven, and cook for 12 minutes — it should be crisp on the surface. Season, and set aside to keep warm.
Meanwhile, spray a wok (ideally nonstick) with a good coating of oil and, over high heat, fry the scallions, chiles, bell pepper, and beans for 2 minutes, stirring continuously.
Add the peas, cabbage, and chicken, and fry to give a little color, and to wilt the cabbage, about 3 minutes.
Sprinkle over the sugar and stock cube, then add the rice, breaking up any lumps. Stir-fry for 2 minutes, then add the remaining ingredients.
Cook for 1 minute, then serve very hot.
*Tip: I know it's lazy, but I'm a supporter of quick-cook rice. If you feel you want to cook your own from scratch, feel free, but make sure that you cool it quickly after cooking, and make sure that it is very dry, and that the grains are separate — use paper towels, if necessary.