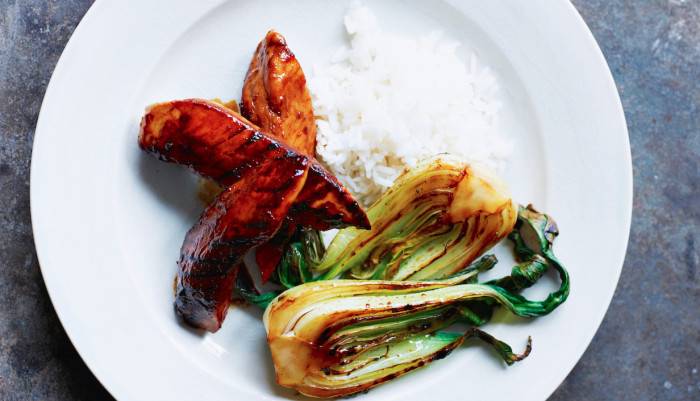 If you're making it from scratch, add a little something you fermented yourself. Award-winning baker and fermentation expert Charlotte Pike has a new book out that guides you through the steps of this near-magical natural process that yields worldwide culinary staples like yogurt, sauerkraut, kimchi and pickles, then serves up a wide variety of recipes incorporating your tart homemade fare. Miso, Japanese fermented soy paste, has an enormous amount of savory-salty umami flavor. Marinate chicken in miso for tender, flavorful, juicy meat that pairs perfectly with crisp bok choy. 
This miso marinade adds a wonderful balance of sweet and savory flavors to the chicken. It takes just a few minutes to make and assemble the marinade; I like to prepare this the night before I want to eat it and leave it covered in the fridge for the next day. The flavor imparted into the chicken is superb, and it makes a very quick and nutritious meal to cook when time is of the essence.
Tip: My vegetarian recipe testers loved making this with thick (½-inch) slices of eggplant instead of chicken.
Ingredients
4

heads

bok choy, halved lengthwise

1

tablespoon

miso paste

4

scallions, thinly sliced

1-inch

fresh root ginger, peeled and grated

2

cloves of

garlic, peeled and finely chopped

2

tablespoons

honey

2

tablespoons

soy sauce

4

boneless chicken breasts, skin removed and sliced in half lengthwise

Freshly cooked rice, to serve
Directions
For the chicken
Bring a saucepan of water to a boil over medium heat and very lightly boil the bok choy for 3 minutes. Drain and refresh in cold water and set aside.

Place the miso, scallions, ginger, and garlic in a bowl. Stir in the honey and soy sauce. Add the chicken and stir to coat it well. Leave to marinate in the fridge for a minimum of 30 minutes, or ideally overnight.

Preheat the broiler or a heat a cast-iron grill pan over high heat. Broil the chicken for about 15 minutes, turning halfway through. Add the bok choy and broil for an additional 5 minutes. Check that the chicken is cooked by cutting open a piece in the thickest part and making sure there is no pink meat inside.

Serve immediately with freshly cooked rice.