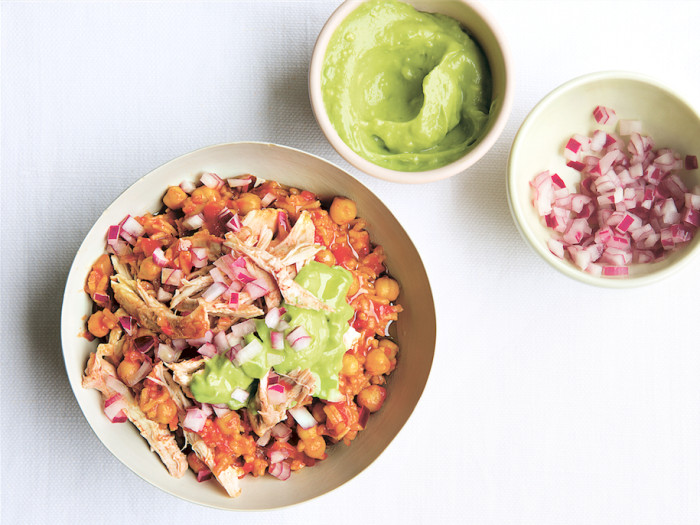 Two ingredients are all you'll need to buy to cook your way though this new collection of pantry-heavy recipes from British writers and recipe developers Rosie Reynolds and Eve O'Sullivan. Keep your larder stocked, as any good home cook should, and get inspired to whip up a feast!

Spicy and hearty meals like this are the most satisfying lunches and dinners out there.
Ingredients
1

tablespoon

olive oil

4

chicken thighs, skin on and bone in

2

onions, finely chopped

2

cloves

garlic, chopped

2

teaspoons

smoked paprika

1

teaspoon

chili flakes

1

teaspoon

ground cinnamon

2

teaspoons

cumin seeds, bashed

1

cup

white basmati rice

1

14-ounce can

chickpeas, drained and rinsed

1

14-ounce can

chopped tomatoes

1

bouillon (stock) cube

1

tablespoon

white wine vinegar

1/2

teaspoon

superfine (caster) sugar

Salt and freshly ground black pepper
For the avocado cream
1

avocado

1/2

clove

garlic, chopped

1

tablespoon

white wine vinegar

Glug

olive oil
Directions
For the bowl
Heat the oil in a large, high-sided pan, add the chicken thighs, skin-side down, and fry over medium heat for about 8 minutes or until golden. Turn over the chicken thighs and push to one side of the pan. Add three-quarters of the chopped onions and fry for 5 minutes, or until they start to soften and take on some color. Add the garlic, paprika, chili flakes, cinnamon, and cumin and fry for 1 minute. Tip in the rice, chickpeas, and tomatoes. Put the bouillon (stock) cube into the empty tomato can, top off with boiling water, stir to dissolve, and then add to the pan along with another 2 cans boiling water. Stir well and cook for 30 minutes. If the pan looks like it is drying out, add a splash more water.

Turn off the heat. Remove the chicken from the pan and rest on a board for 5 minutes, then use two forks to shred the chicken, discarding any skin and bones. Return the meat to the pan.

Put the remaining onion in a small bowl with the vinegar and sugar, stir to dissolve, and let stand for 2 minutes.

Put the avocado into a food processor with 2 tablespoons water, the chopped garlic, vinegar, and a glug of olive oil, and process until completely smooth.

Season the stew with salt and pepper, then ladle into bowls and top with the pickled onions and avocado cream.