Québécois Mussel Chowder Recipe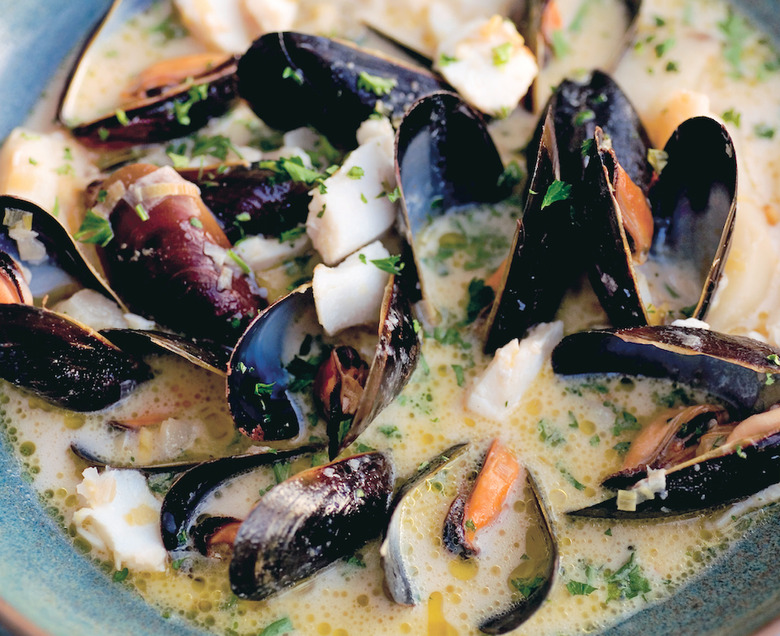 We may receive a commission on purchases made from links.
When the temperature starts to drop, reach for award-winning British food writer and cookbook author Diana Henry's new guide to cold weather comfort food. From rib-sticking braises to the best fall fruit desserts, Roast Figs Sugar Snow is the key to staying warm this fall and winter. Try this hearty Québécois-style mussel chowder when nothing else will do the trick.
Québécois Mussel Chowder Recipe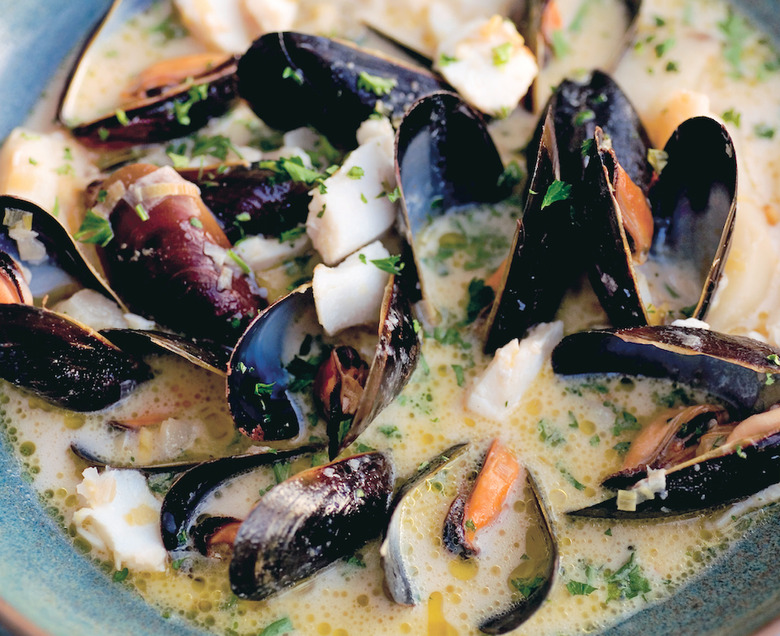 Ingredients
2 pounds 4 ounces (1 kg) mussels
2 1/2 cups Hard Cider
2 tablespoons butter
2 leeks
14 ounces potatoes
1/2 cup heavy cream
14 ounces cod filet (skin removed)
pepper
squeeze of lemon
fresh flat leaf parsley
Directions
Clean the mussels really well, scrubbing the outsides and removing the beards, and discard any that are damaged, open, or do not close when tapped on the side of the sink.
Put them into a large saucepan and add the cider.
Bring to a boil, reduce the heat, cover and let simmer for about 5 minutes, or until the mussels have opened. Discard any that remain closed.
Melt the butter in a large, heavy saucepan and add the leeks and the potatoes.
Cover and sweat the vegetables in the butter, plus a splash of water, over low heat for about 15 minutes, until they start to soften. Add a little more water every so often to ensure that the vegetables do not burn.
When the mussels are cool enough to handle, remove them from the cider and take the meat out of most of them, keeping some in the shell; they look nice in the final dish.
Add the cider and mussel juices to the leek and potatoes, and simmer until the potatoes are tender.
Gently mash some of the potatoes to slightly thicken the juices.
Add the cream and cod and poach over low heat for 2 to 3 minutes.
Add the mussels to the soup and heat through.
Season with pepper and a good squeeze of lemon (you shouldn't need any salt as mussel liquor is usually pretty salty). Scatter with the parsley and serve.
Vineyard Clam Chowder Recipe
Golden Mussel Chowder Recipe
Grilled New England Clam Chowder Dip Recipe