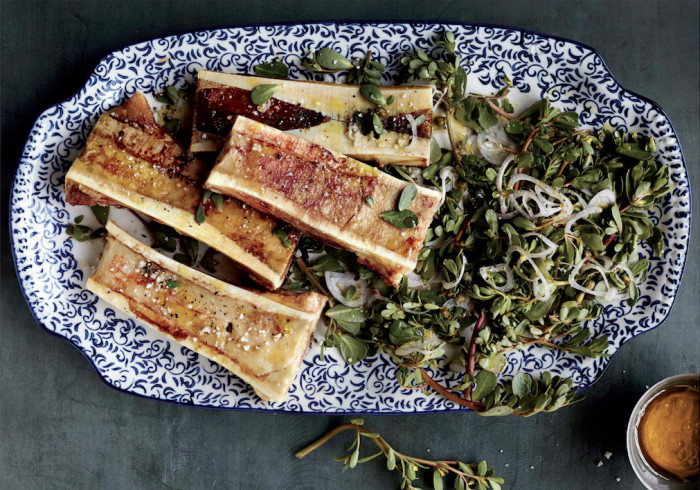 James Beard Award winning food writer and recipe developer Georgeanne Brennan turns to her adopted home of Provence, France for her latest collection of dishes you'll want to cook immediately. This purslane salad is chock full of the nutrient-rich wild weed. Crisp, melty roasted marrow bones are the perfect accompaniment. 
Purslane, known as pourpier in France, is a wild green succulent that grows in vineyards and gardens. During spring and summer, it can sometimes be found in the open markets in France and at farmers' markets in the United States. At my house in California, it comes up every year in the garden, along the edge of the lawn, and in the grape arbor. Farmers consider it a weed, but we cooks love the slightly tart, lemon flavor of its leaves, which makes an ideal counterpart to rich bone marrow. If you can't find purslane, use wild or baby arugula mixed with watercress.
Ingredients
8

beef marrowbones, each about 4 inches long, halved lengthwise by your butcher

1

bunch

young purslane

2

small shallots, thinly sliced

2

tablespoons

extra-virgin olive oil

1

tablespoon

capers, rinsed and chopped

1

teaspoon

fresh lemon juice

4

teaspoons

coarse sea salt

1/4

teaspoon

freshly ground pepper, plus pepper for serving

16

slices

baguette, grilled or toasted
Directions
For the salad
Fill a large bowl with ice water and soak the marrowbones for 30 minutes to draw out any residual blood.

Preheat the oven to 450°F. Remove the bones and pat dry. Place the bones, marrow side up, on a rimmed baking sheet. Roast until the marrow is hot and soft but not melting, about 10 minutes.

Separate the leaves and tender sprigs from the purslane stems, discarding the stems. You should have about 4 cups. In a salad bowl, whisk together the shallots, oil, capers, lemon juice, ¼ teaspoon of the salt, and the ¼ teaspoon pepper. Add the purslane and toss to coat well.

Divide the salad and marrowbones among 4 plates. Add 2 toasts and 1 teaspoon of the remaining salt to each plate. Serve at once, accompanied by freshly ground pepper and the remaining 8 toasts. Diners can spread the bone marrow on their toasts, seasoning with pepper and salt as desired.