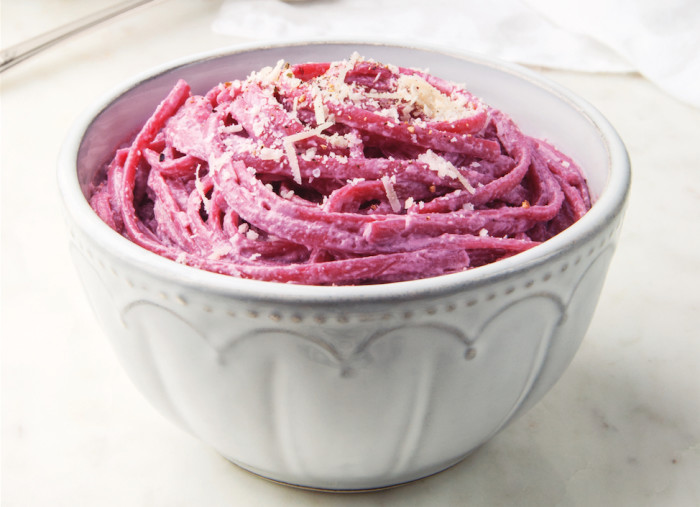 Steer clear of Americanized, fat-laden carbohydrate bombs disguised as Italian food, and get back to basics. Food writer, blogger and registered dietician Alexandra Caspero has a new collection of recipes out that strips your pasta of all things excessive, while leaving the flavor, toothsome texture and healthy ingredients you love.

This unique pasta dish is one of my husband's absolute favorites. The shocking pink color is a fun twist on traditional Italian and features one of my most beloved vegetables, the beet.

Roasted beets are pureed with goat cheese and hazelnuts to create a thick, creamy paste that melts into hot pasta. After cooking the pasta, make sure to reserve the remaining pasta water to add to the linguine and beet puree. The pasta water contains excess starches that help the sauce cling to the noodles, coating every strand. For a beautiful appetizer, try this beet butter puree on toasted crostini.

Reprinted with permission from Fresh Italian Cooking for the New Generation
Ingredients
1/2

pound

beets (about 2 medium beets)

3

teaspoons

extra-virgin olive oil, divided

1

cup

linguine

1/4

cup

hazelnuts, toasted and skin removed

3

ounces

goat cheese

1

tablespoon

balsamic vinegar

3

tablespoons

vegetable broth

Salt and freshly ground black pepper

3

tablespoons

Parmesan cheese, freshly grated, for garnish
Directions
For the linguine
Preheat oven to 400ºF (204ºC). Wash and scrub beets, removing leaves if attached. Place beets on a large piece of foil and drizzle with 1½ teaspoons (7 milliliters) of the olive oil. Wrap tightly and place in the oven to roast. Beets are done when they can be easily pierced with a knife, about 50-70 minutes depending on the size of the beets. When done, remove from oven and let cool slightly. Remove skin with a paper towel or by running the beet under cool water and rubbing skin off. This can be done up to three days ahead of time.

Bring a large pot of water to a boil. Add the linguine and cook until al dente, according to package directions. Drain, reserving 1 cup of pasta water.

Quarter beets and place in a food processor with the hazelnuts. Pulse to combine. Add the goat cheese, balsamic vinegar and remaining 1½ teaspoons olive oil. Pulse to combine. Run the food processor and slowly add vegetable broth until the mixture becomes fluffy and smooth. You may not need all the vegetable broth. The beet butter should be smooth and spreadable. Season to taste with salt and pepper.

Place the beet butter in a large bowl (or cooking pot if you don't want to dirty another dish) and add in ⅓ cup of the pasta water. Whisk to thin. Add in the linguine and toss well to combine. If the pasta is too thick, add in more pasta water, 1 tablespoon at a time. Season to taste with salt and pepper. With the creamy goat cheese, I think this dish tastes best with lots of freshly ground black pepper.

Transfer to a serving dish and garnish with Parmesan cheese.