Pumpkin Parisian Gnocchi Recipe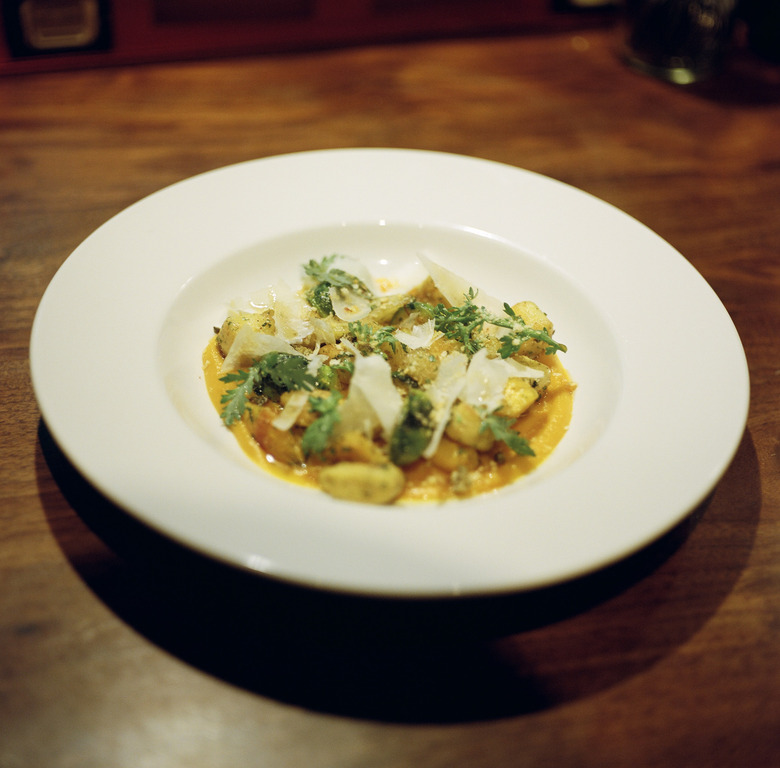 This pumpkin gnocchi recipe is the essence of Portland vegetarian hub Natural Selection. Chef Aaron Woo's goal is to create vegetarian food not based solely on vegetables, but on the depth and balance of flavor. Owing to rich, sweet and tangy pumpkin sauce, these fluffy homemade gnocchi will leave you satisfied with none of the heaviness of your classic Italian dinner.
Pumpkin Parisian Gnocchi Recipe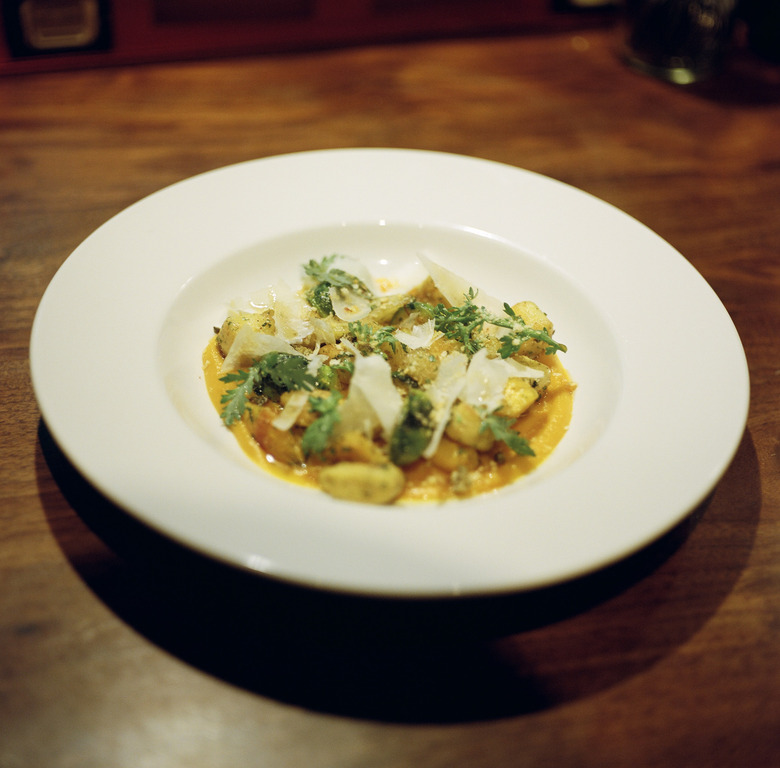 Ingredients
11 pieces Parisian gnocchi*
5 cubes roasted pumpkin
5 cubes roasted apple
2 Brussels sprouts blanched and quartered
1 teaspoon olive oil
1 tablespoon butter
3 tablespoons pumpkin sauce
2 tablespoons white balsamic and cider reduction
5 leaves of shungiku (mild mustard green family) or Italian parsley
Thinly shaved kohlrabi or radish
Freshly grated or shaved Parmesean cheese
1 tablespoon toasted breadcrumb mix
3/4 cup water
6 tablespoons butter
2 teaspoons salt
1/4 teaspoon white pepper
1 cup all purpose flour
1 tablespoon Dijon mustard
1 teaspoon chopped chevril
1 teaspoon chopped chives
1 teaspoon chopped parsley
1 teaspoon chopped tarragon
1/4 teaspoon ground fennel seed toasted
3 large eggs
Directions
In a non-reactive sauce pot, add water, butter and 1 teaspoon salt. Heat at medium-high.
Once mixture comes to a simmer, turn heat down to medium and add flour all at once. Stir rapidly and consistently with a wooden spoon, until the dough pulls away from the sides and the bottom of the pan is clean with no dough sticking to it. The dough should be glossy and smooth.
Turn off heat and continue to stir rapidly for 5 minutes, evaporating moisture from the dough.
Immediately transfer the dough to an electric mixer with a paddle attachment.
Add 1 teaspoon salt, Dijon mustard, chopped herbs and ground fennel seed. Mix on low for 1 minute.
Add 3 large eggs, one at a time, beating between low and medium, waiting for each egg to be completely incorporated before adding the next one.
When the dough is cohesive, place into a pastry bag with a 5/8-inch plain round tip.
Bring a pot of lightly salted water to a simmer.
Holding the pastry bag over the edge of the pot of water, squeeze bag and cut dough into 1-inch dumplings with a paring knife. Allow pieces to fall directly into the water. Work in batches of 15-20 pieces.
When the gnocchi float to the surface, allow to poach for 2 more minutes. Then remove pieces with a slotted spoon or strainer to a well-oiled baking sheet. Taste one for desired tenderness before continuing.
When all of the gnocchi are finished poaching, cool in refrigerator for at least 1 hour. Cover until ready to use.       
Remove skin and seeds of a small baking type of pumpkin. Cut into 5-6-inch chunks, toss with olive oil and salt and pepper.
Bake in 350° oven until just tender when pierced with a paring knife. Remove from oven and let cool. Cut cooled pumpkin into 3/4-inch cubes.
Peel and quarter apple, removing the entire core.
Put apple and apple juice in a non-reactive sauce pot. Add 1 tablespoon lemon juice, 1 teaspoon salt and cover. Bring to a simmer over medium-high heat. Remove the apples from the poaching liquid and cool in refrigerator. Cut the cooled apples into 3/4-inch cubes.
Steam or roast 2 cups of peeled, seeded pumpkin flesh until completely cooked and very soft.
Transfer cooked pumpkin and caramelized  onion to a blender and puree with salt, pepper, lemon juice and vegetable stock to taste. Add enough stock to create a thick sauce consistency.
In a non-reactive sauce pot, combine 1 cup white balsamic vinegar and 1 cup apple cider vinegar. Reduce by half over medium-high heat.
Add 1 cup apple cider and reduce by half again. Turn heat down to medium and reduce the mixture to the consistency of maple syrup. Let cool.