Pulled Pork Belly Lasagna Recipe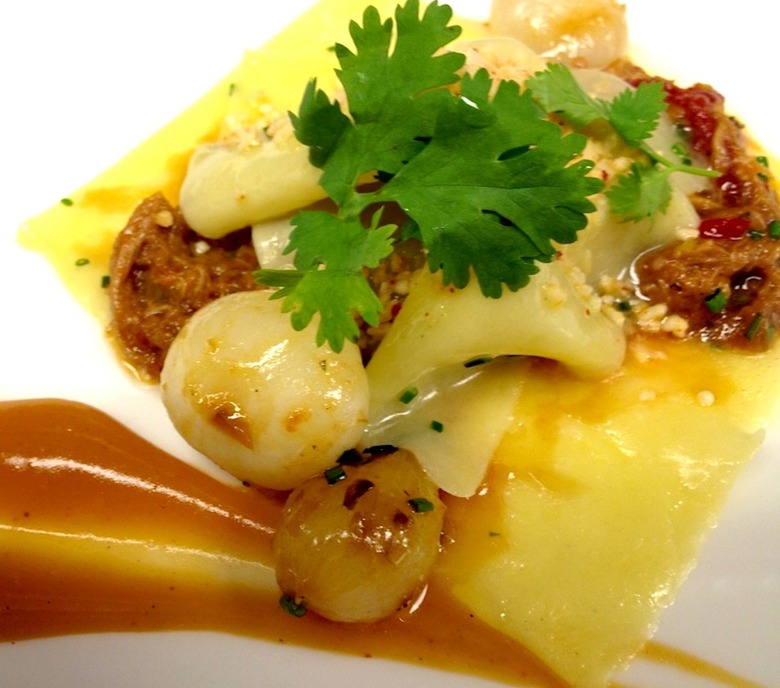 Chef Paula DaSilva of 1500° in the Eden Roc Renaissance hotel, Miami Beach's chic farm-to-table eatery, created this modern deconstructed lasagna recipe using flavors from her native Brazil. Ever had pasta with peaches and cotija? Take a leap of faith.
It's a great way to use up leftover pulled pork, or you can make the pork the day of — she kindly provided her technique. Much of this recipe can be prepared ahead of time, sealed in plastic bags, frozen and heated up to create impressive meal in no time flat. Pre-made pasta sheets, which you can buy at any Italian market, have never been so useful.
Pulled Pork Belly Lasagna Recipe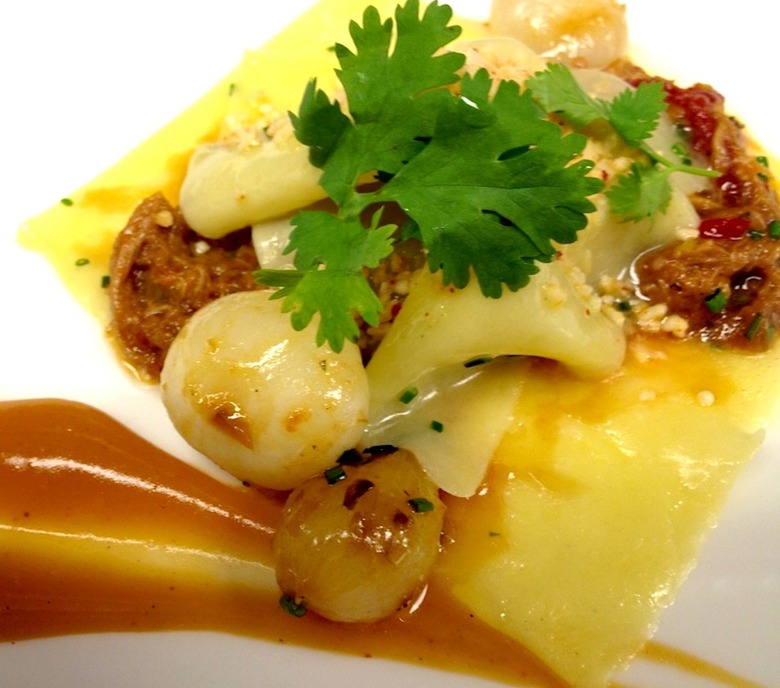 Ingredients
2 pounds pork belly
1 carrot
1 onion
1 stalk celery
5 cloves garlic
5 sprigs thyme
1 bay leaf
1 tablespoon black peppercorns
1 tablespoon coriander seeds
2 quarts chicken stock
salt
4 very ripe peaches
1/4 cup sugar
1 tablespoon salt
4 leaves basil
4 tablespoons unsalted butter
1 cup pearl onions
1 cup chicken stock
1 teaspoon sherry vinegar
4 ounces pea tendrils
8 sheets fresh pasta
1 bunch chives
1/2 cup grated cojita cheese
Directions
Place the chopped carrot, onion, and celery in a roasting pan. Top with garlic, thyme, bay leaf, peppercorns and coriander seeds. Season pork with salt and place on top of veggies. Add chicken stock.
Place in 300°F oven for about 3 hours, until tender. Allow to cool in refrigerator. Use a fork to "pull" meat apart.
Toss peaches in a bowl with sugar and salt and let sit for 30 minutes.
Push lightly through a strainer over a small pot to extract the juices, add the torn basil leaves and reduce by half over medium heat.
Pick out basil leaves, add the remainder of the peaches to the pot and cook on low until just heated through.
Remove from pot and spread on a sheet pan to cool so they do not overcook. When cool, toss with basil chiffonade.
Bring a large pot of water to a boil and season heavily with salt.
In a large sauté pan, heat the pulled pork with the chicken stock, pearl onions and 2 tablespoons of the butter. Season with sherry vinegar and add salt as needed.
Remove from heat and add pea tendrils, then set aside.
In another large sauté pan, melt the remaining butter with 2 tablespoons of water over medium-low heat until a thick, bubbly sauce is formed.
Add fresh pasta to boiling water and cook for about a minute, then remove from water and place into butter sauce. Season with salt as needed and add chopped chives.
In a shallow casserole dish, layer pork mixture, then pasta, then pork and pasta again. Top each portion with 2 tablespoons of cotija cheese, then 2 tablespoons of peach salsa and serve.