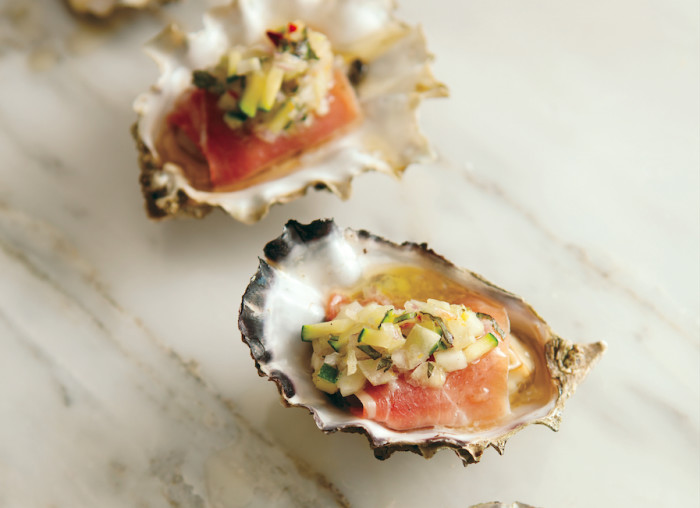 Chefs Ron Oliver and Bernard Guillas of the renowned Marine Room in La Jolla, CA have released the follow-up to their popular self-published cookbook, Two Chefs, One World. Their new book, Two Chefs, One Catch, focuses exclusively on the bounty of the sea, and how to prepare it masterfully for every fish lover you know.
The ancient coastal city of Taranto is located on the Salentina Peninsula in Puglia (the region that forms part of the heel of Italy's boot), overlooking the bay, where three sides of land face inward on the Mar Grande, the Mar Piccolo and the Ionian Sea. Because of its location and its fishing center, Taranto provides some of the country's best seafood. At Piazza Fontana, the small fishing port sells sea urchin, octopus, bream, mussels and oysters farmed in the Mar Piccolo. Taranto's signature oyster preparation is ostriche tarantine in tiella, simply baked in the shell with bread crumbs, parsley and olive oil. In our version we jazz it up by adding flavors of prosciutto, fennel and chile. As the locals would say, "Se non amate la vita, non si può godere di un ostrica!"—"If you don't love life, you can't enjoy an oyster!"
Ingredients
1/4

cup

shallots, finely diced

1/2

cup

fennel, finely diced

1/2

cup

zucchini, green part only, finely diced

1/4

teaspoon

chile flakes

1/2

teaspoon

orange zest

2

teaspoons

oregano leaves, chopped

1 1/2

sticks

unsalted butter, room temperature

sea salt, to taste

ground white pepper, to taste

24

oysters

12

paper-thin slices

prosciutto ham

1/4

cup

Marcona almonds, chopped and toasted

2

ounces

Parmesan cheese
Directions
Preheat oven to 375°F.
Combine shallots, fennel, zucchini, chile flakes, orange zest, oregano and butter in mixing bowl.
Season with salt and pepper.
Mix until mixture forms a ball. Set aside.
Shuck oysters, discarding top shell.
Discard shell fragments from meat.
Detach oyster from shell.
Cut prosciutto slices in half lengthwise.
Wrap each oyster in prosciutto. Return to shell.
Transfer oysters to baking sheet.
Divide butter mixture between oysters, about 2 tablespoons per oyster.
Bake 5 minutes or until hot in center.
Sprinkle with almonds. Shave Parmesan atop oysters.
Find more oysters on Food Republic: