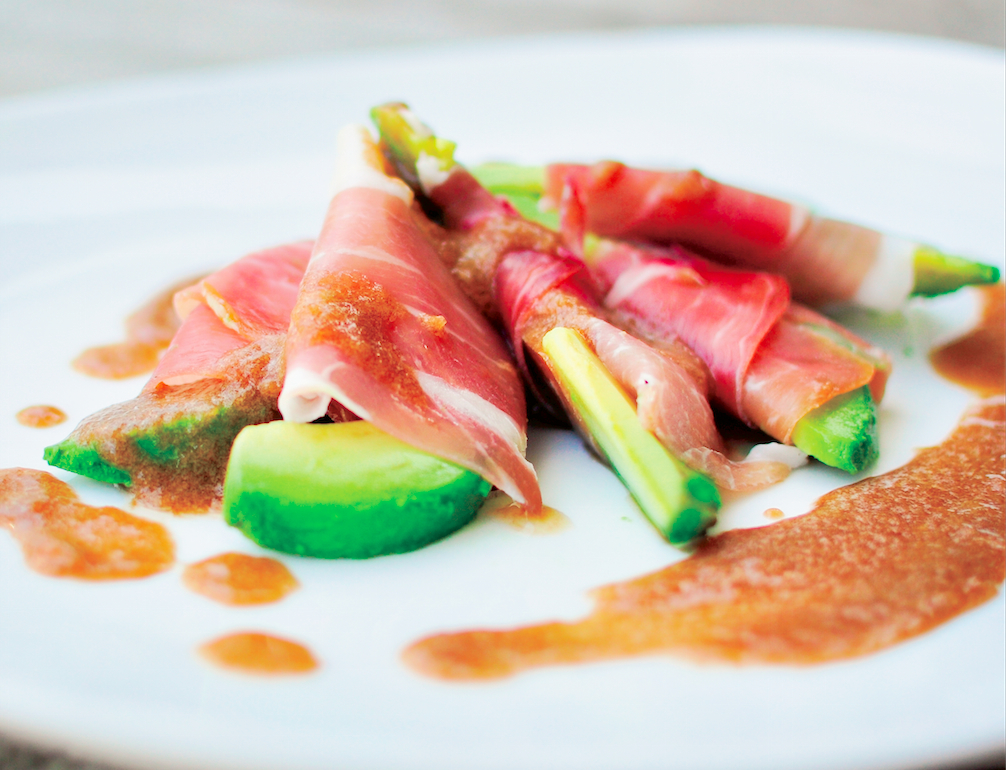 If you've ever found yourself staring down the perfectly ripe avocado in your kitchen willing yourself not to make yet another batch of guac, meet your new favorite cookbook. Cook and blogger Elizabeth Nyland has 75 recipes for the star of the produce bin, starting with your new favorite first course: prosciutto-wrapped avocado with melon vinaigrette.
Prosciutto is one of my very favorite cured meats. It comes from the dry-cured hind leg of pigs or boars and is usually served raw (called prosciutto crudo in Italian). Its salty, savory flavor is perfect for pairing with sweet and creamy textures. I have often served prosciutto-wrapped fresh figs stuffed with goat cheese and grilled on the barbecue to great delight from my dinner guests. Here the prosciutto is paired with refreshing slices of avocado and drizzled with a sweet melon and balsamic sauce. You'll need 16 slices of prosciutto for this recipe. Slices of prosciutto vary in size depending on how you buy them; you can cut larger slices into smaller pieces if necessary to get the right number.
Ingredients
1/4

honeydew or cantaloupe melon, peeled and sliced (about 1/2 cup or 4 ounces)

2

tablespoons

aged balsamic vinegar

5

ounces (16 thin slices)

prosciutto

2

avocados, halved, pitted and each half cut into 4 wedges
Directions
Process the melon and vinegar in a blender or food processor until completely smooth.
Gently wrap a slice of prosciutto around each avocado wedge and lay on a platter or individual plates.
Drizzle the melon sauce over the wrapped avocado wedges and serve immediately.
Find more snacks with prosciutto on Food Republic: