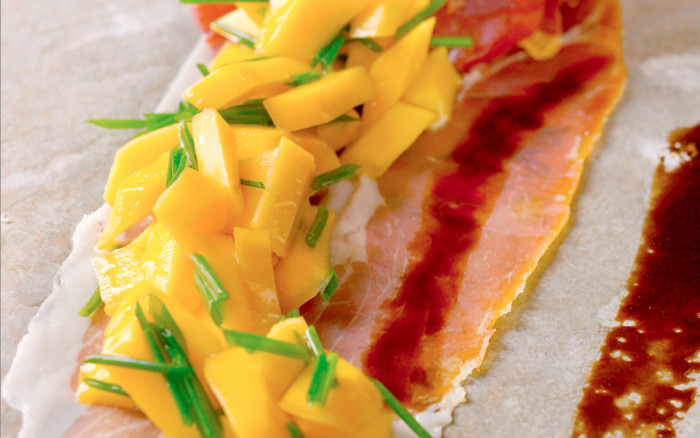 Some of our favorite cookbooks comes from the great minds at the Culinary Institute of America. Their new book, Mediterranean Cooking, is no exception. Use seasonal ripe peaches to accent salty prosciutto in a way that may make you forget all about melon. 
Of course the classic combination is melon and prosciutto, but peaches are my favorite fruit. In the middle of peach season, this fresh approach to an old standard will blow you away. If your peaches are not perfectly ripe, or it is not peach season, try it with mangos for something different.
Ingredients
16

slices

prosciutto, very thinly sliced

16

chives

2

perfectly ripe peaches, peeled and cut into 8 wedges per peach

freshly ground black pepper, to taste

extra virgin olive oil, as needed

2

tablespoons

good-quality aged balsamic vinegar
Directions
Preheat the oven to 325 degrees.
Wrap 8 pieces of the prosciutto around the bottom of the wells of an inverted standard muffin pan and bake until crispy. Remove the prosciutto from the muffin wells and break into large shards. Reserve until needed for the final plate.
Lay the remaining slices of prosciutto out flat on a serving plate and then put a crispy piece at the end of each piece of prosciutto.
Finely chop the chives and mix with the peaches. Grind some pepper onto the prosciutto. Arrange the seasoned peaches on the piece of prosciutto on a platter and drizzle with the olive oil and balsamic vinegar. Serve at room temperature.
Try out these great combination dishes on Food Republic: