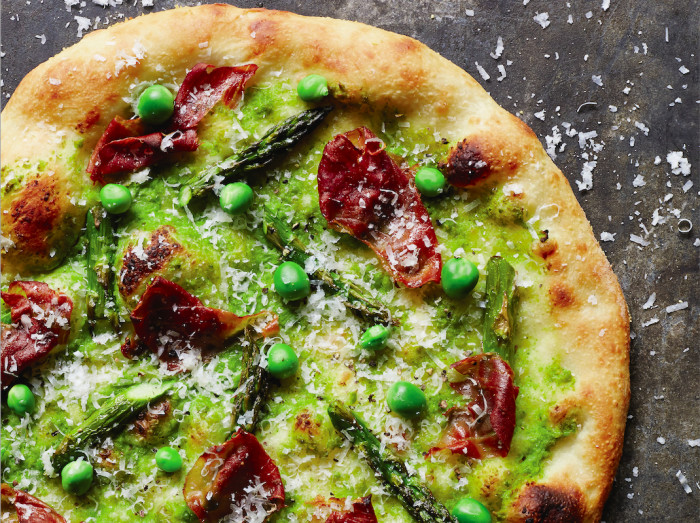 The great thing about a pizza crust is it even looks like a blank slate! And that's just what it is, which is why you should pick up a copy of culinary author Suzanne Lenzer's new book, Truly Madly Pizza. Whether you're going for a carnivore's dream or lightening up with roasted vegetables and herbs, a devout mozzarella sprinkler or on the hunt for something more pungent, there's a recipe in this book for you. 
Okay, time to pay homage to one of my favorite cooks, Nigella Lawson. No, her food isn't fussy. No, I don't love all her recipes. But damn if she isn't happy in the kitchen and sexy while she cooks. Long before I went to culinary school, I'd learned more than a few really useful kitchen tricks from Ms. Lawson, including how to make fantastic risi e bisi. If you're not familiar, risi e bisi is an Italian risotto with peas. Most recipes I've seen are basic white risottos that rely on just-picked fresh peas to bring them to life. Not so with Nigella's: She makes a rich pea sauce that she then adds to the risotto at the end, resulting in a vivid green pot of rice dotted with plump peas and alive with flavor. I took this concept and used it as a pasta sauce for years, until one day I had some left over and smeared it on a pizza, with delightful results. Some extra peas, a few torn slices of prosciutto and extra Parmesan and you have my version of pizza e bisi.
This recipe will make more sauce than you need for one pizza, but it freezes well. Save the extra for another pie or to toss with pasta or risotto. Or you could also just increase the proportions and serve this sauce as a chilled or warm soup. It's that good — a toasty crouton or some prosciutto crisps on top would be a nice touch. And yes, this is a recipe where a box of frozen peas is just fine.
Ingredients
1/2

bunch

asparagus (8 to 10 spears), trimmed

2

tablespoons

extra-virgin olive oil

Sea

salt and freshly ground pepper

4

tablespoons

unsalted butter, at room temperature

2

cups

fresh or frozen peas

1/2

cup

chicken stock

1

cup

Parmesan cheese, freshly grated

1

ball

pizza dough, thawed if frozen

cornmeal, for dusting

4 to 6

slices

prosciutto, torn into bite-size pieces
Directions
Preheat the oven to 400°F.
Spread the asparagus out on a baking sheet. Drizzle with the olive oil, sprinkle with salt and pepper, and toss to coat. Roast until bright green and tender, 5 to 7 minutes. Remove from the oven, set aside, and increase the oven temperature to 550°F. If you are using a pizza stone, place it in the oven at this time to preheat.
Meanwhile, in a medium saucepan, melt 1 tablespoon of the butter over medium-high heat. Add the peas and swirl to coat them in the butter, then add the chicken stock. Bring the stock to a simmer and cook just until the peas turn bright green, 1 or 2 minutes. Remove the pan from the heat.
Use a slotted spoon to transfer half the peas to a bowl and set aside. Put the remaining peas and their cooking liquid in a food processor or blender (I use a mini food processor here) and purée. Add the remaining 3 tablespoons butter and 1/2 cup of the Parmesan cheese and continue to process until smooth. Season with salt and pepper.
Shape the pizza crust: Working with the dough in your hands (not flat on a work surface), gently begin to stretch the dough into a circular shape, pressing your fist into the center of the dough and pulling at the edges with your other hand. With both hands, stretch the dough, being careful not to tear it. Working in a circular motion, pull the thicker edges of the dough outward, letting gravity help you. Continue to stretch the dough until it's relatively even in thickness (the edges will be thicker — that's okay) and you have the size you want.
If you are using a pizza stone and a peel, dust the peel generously with cornmeal and lay the crust on the peel to slide it onto the pizza stone. If you are using a large baking sheet, brush the sheet with extra-virgin olive oil and sprinkle it with the cornmeal before placing the dough on the sheet.
Using the back of a spoon, gently smear the crust with the pea sauce, leaving a border about 1 inch wide all around. Cut the asparagus into 1-inch pieces and scatter them over the crust along with the reserved whole peas and the prosciutto. Finally, sprinkle the remaining 1/2 cup Parmesan over everything.
Transfer the pizza to the oven and bake until the crust is nicely browned and the cheese has melted, about 6 to 10 minutes.
Some extra peas, a few torn slices of prosciutto and extra Parmesan, and you have my version of pizza e bisi.
Try using peas in some more great ways with these recipes from Food Republic: