Probiotic Power! Dosa-Inspired Pancakes Recipe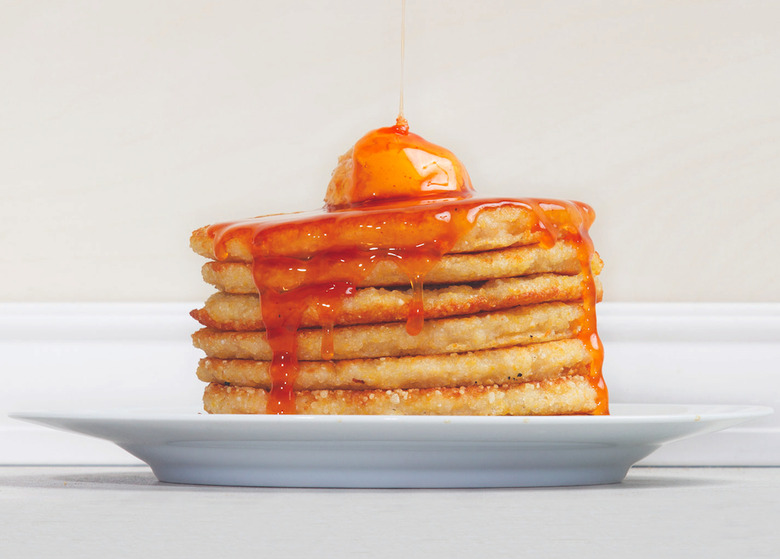 We may receive a commission on purchases made from links.
Sometimes the secrets of fermentation surpass our knowledge capacity. The process that yields pickles, kimchi, yogurt, wine and other tart, flavorful and especially healthy ingredients can be used to enhance almost anything you cook. Blogger, podcast host and all-around fermentation master Branden Byers' new cookbook, The Everyday Fermentation Handbook, is a fount of knowledge. Ever think you could enhance pancakes with kimchi? Prepare to be amazed.
These pancakes are thicker than a traditional dosa but the fermentation process is similar. The texture is more like a traditional pancake, albeit less fluffy, and they are easier to pour than the paper-thin original. These taste great with any savory topping such as a chutney, curry, peanut butter, or with the following kimchi-infused honey.
Reprinted with permission from The Everyday Fermentation Handbook
Probiotic Power! Dosa-Inspired Pancakes Recipe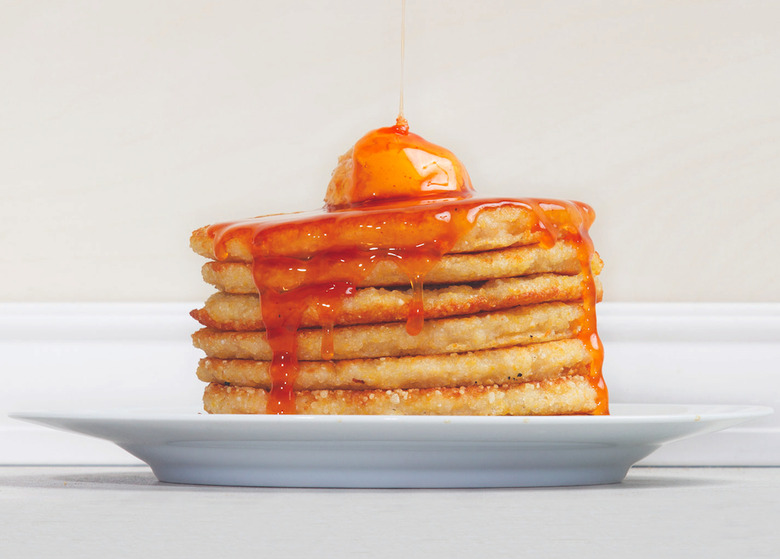 Ingredients
2 cups white rice
1 cup brown
1/2 tablespoon salt
4 cups water
coconut
1/2 cup honey
1/4 cup red kimchi
Directions
Place rice and lentils in a bowl and fill with water. 
Cover with plate or towel and let soak for 24 hours at room temperature.
On the following day pour off half of the soak water and then puree the rice, lentils, salt and remaining water in a food processor, blender, or by using a pestle and mortar. The batter should now resemble a semi-thick pancake batter. Add more water if needed.
Cover and let sit for 1–2 more days at room temperature.
Once the rice and lentil batter has visibly risen, it is ready to cook.
Do not let the batter sit for too long after rising or the final pancake will be flat and sour due to overfermentation.
If preparing the kimchi-infused honey, heat honey and kimchi in a double boiler, or bowl on top of a saucepan, on medium low for 5–10 minutes.
Strain kimchi solids and reserve honey.
Warm a pan on medium heat.
Brush with a thin coat of coconut or sesame oil before each new pancake.
Pour roughly 1 cup of batter per pancake and allow the pancakes to settle on their own.
Cook for 2–3 minutes per side, flipping once.
Serve warm or at room temperature with cultured butter and kimchi-infused honey.
Sweet And Savory Cornmeal Pancakes Recipe
Japanese Pancakes (Okonomiyaki)
Reinventing The Pancake: Mac Cakes Recipe