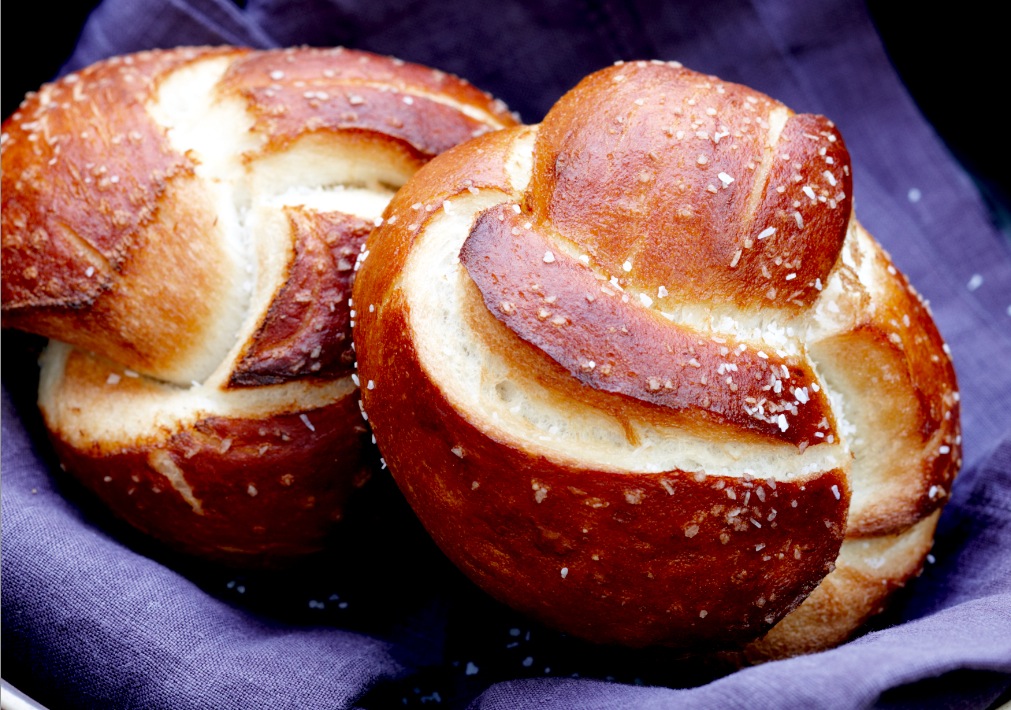 Tucson, Arizona's Miraval Resort is a rare haven where natural beauty and excellent cuisine meet. While we're crazy about their lobster and arugula salad (we featured the recipe here), sometimes a perfect, classic pretzel roll is all you can ask for. Especially when they're as easy to make as this one. Ready to learn the secret weapon of highly skilled pretzel roll bakers?
Says executive chef Justin Macy:
"I use a baking soda-water solution to give this bread a nice dark brown color, a characteristic of most pretzels. Using a spray bottle helps to coat the dough well without having to go through the messy, time-consuming process of boiling the dough in the solution prior to baking. The dough has a sweet flavor that is offset by the salty exterior. As the name suggests, I make the dough into rolls as opposed to a pretzel shape, making this bread very quick and easy to make."
Remember, your loved ones will consume as many pretzel slider sandwiches as you can make. So make plenty.
Ingredients
6

teaspoons

active dry yeast

2 1/2

cups

warm water

3/4

cup plus 1 teaspoon

granulated sugar

7

cups

all-purpose flour

2 1/4

teaspoons

kosher salt, plus more for sprinkling

2

tablespoons

canola oil

1/4

cup

baking soda

2

cups

warm water
Directions
In a mixer fitted with a dough hook attachment, briefly blend the yeast, warm water, and 1 teaspoon of the sugar. Let rest about 10 minutes so it can "bloom" to activate the yeast.
After yeast has activated, add the flour, remaining sugar, salt and oil. Mix for 5 minutes or until a smooth, dense dough has formed.
Remove the dough from the mixer and transfer to a greased medium-sized bowl. Let the dough rise in a warm place for 2 hours or until doubled in size.
Line a baking sheet with kitchen parchment and spray it with nonstick cooking spray. Divide the dough into 3 equal pieces and roll each piece into a rope about 2 inches in diameter. Cut each rope into 1-inch pieces. This should give you roughly 35 rolls.
Place the rolls on the prepared baking sheet about 2 inches apart. Cover with a clean dishcloth and let rise again for 30 minutes.
Heat the oven to 425 degrees F. In another bowl, combine the baking soda and warm water. Transfer the baking soda solution to a spray bottle and spray the rolls generously with the solution. Sprinkle with extra kosher salt if you like. Bake for 15 minutes until the rolls are a rich dark brown all over. Remove from the oven and let cool on the baking sheet.
Try out these basic bread recipes on Food Republic: