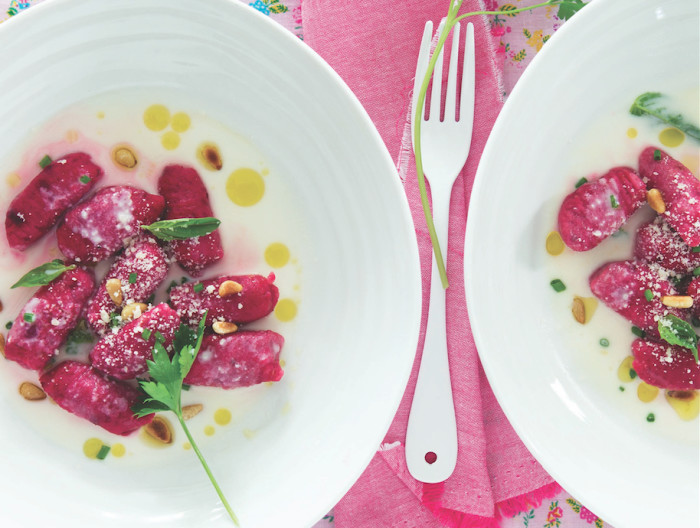 Author and blogger Béatrice Peltre has a new collection of recipes out that will have you craving French food like never before. One of the most appealing factors of French food is that it's made at home for family — like this dish for her daughter. Though France's fine-dining scene has garnered world renown, it's eating at one's own dining table that's the real treat.

Like many of her six-year-old girlfriends, Lulu loves the color pink. And since she adores gnocchi, I created this recipe for her. The bright fuchsia dumplings against the delicate white in the sauce are simply stunning and oh so appetizing!

Note: If you are serving this dish in the summer, add freshly cooked corn sliced off the cob. Toss in some lightly sautéed langoustines for a more substantial meal.
Ingredients
1

small beet (3 1/2 ounces), peeled and diced

1

tablespoon

olive oil

3

medium

potatoes (1 pound)

1/2

cup

finely grated Parmesan cheese

1

large egg

1/3

cup

white rice flour

1/3

cup

sweet rice flour

sea salt and pepper
For the Parmesan and parsley sauce
1/4

cup

pine nuts

1 1/2

cups

whole or 2% milk

3/4

cup

finely grated Parmesan cheese

2

tablespoons

finely chopped parsley or basil

olive oil, to drizzle
Directions
For the gnocchi and sauce
Steam the beet until tender. Transfer to the bowl of a food processor and purée with the olive oil until smooth; set aside.

Boil the potatoes in a large pot of water until tender. Cool slightly, then peel; you want 14 ounces (400 grams) potatoes once they are peeled. Pass them through a ricer with the beet purée; stir to combine completely. Stir in the Parmesan, egg, and flours until smooth. Season with sea salt and pepper. Divide the dough into 4 pieces and roll into 1-inch (2.5-centimeter) thick logs. Cut the logs into 1/2-inch (1.25-centimeter) pieces, and make a small imprint on each gnocchi with a fork or gnocchi board; set aside.

To prepare the sauce: In a pan, toast the pine nuts for a few minutes over low to medium heat, until lightly golden; set aside.

Combine the milk and Parmesan cheese in a pot. Whisk together and heat. Cook for 2 minutes, stirring constantly, until the cheese melts and the sauce thickens. Keep warm on the side over a low flame.

Bring a large pot of salted water to a boil. Drop in a first batch of gnocchi — about 12, but do not overcrowd the pot— and cook for 1 to 2 minutes, or until the gnocchi rise to the surface. Remove with a slotted spoon and transfer to a serving dish. Cover with plastic film while you continue to cook. Repeat with the other gnocchi, in as many batches as you need.

When ready to serve, spoon some sauce into the bottom of four shallow plates. Add the gnocchi and spoon a little more sauce over them. Sprinkle with parsley or basil. Garnish with the pine nuts, sprinkle with extra cheese if desired, and drizzle with olive oil. Serve immediately.