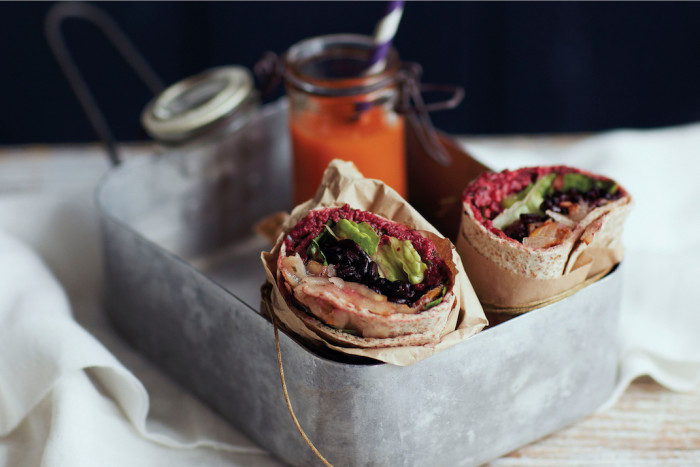 You are the master of your dietary destiny. Pick up a boost from fitness guru and nutritionist Julie Montagu's new book, Superfoods, and enjoy pretty much the whole-est grains there are. Seriously, friends, eat your fiber.
I especially love this recipe because not only is it tasty in every way possible, but also it's a big hit with my children. It's incredibly easy to "hide" really amazing foods that your children might not normally eat — and here's how!
Brown rice is good for you, but black rice is even better. It may take longer to cook, but if you have the time, then go for it. The bran hull in black rice contains significantly higher amounts of vitamin E, which helps to protect the cells from those free radicals.
Ingredients
4

whole wheat tortillas

2

large romaine lettuce leaves, torn in half

1

large pear, grated

sea salt
Beet paste
2

cooked beets, roughly chopped

1

garlic clove, crushed

Small handful of fresh cilantro

Small handful of fresh flat-leaf parsley

1/3

cup

walnuts

1

teaspoon

coconut oil

2

teaspoons

apple cider vinegar
Black rice
1

cup

water

1/2

cup

black rice

1/2

teaspoon

caraway seeds

Finely grated zest and juice of 1/2 lime

Scant 1/4

cup

golden raisins

Scant 1/2

cup

slivered almonds, toasted
Directions
For the wraps
To make the beet paste, throw everything into a food processor, add a pinch of sea salt to taste, and blitz until a paste has formed. Transfer to a bowl for later.

To make the black rice, put 1 cup water in a saucepan and bring to a boil. Add the rice, caraway seeds, and a pinch of sea salt. Reduce the heat to low, cover, and leave to simmer for 20 to 25 minutes, or until all the water is absorbed, then let cool.

Once cooled, transfer the rice to a bowl and add the lime zest and juice, golden raisins, and almonds. Stir well.

Place 2 tablespoons of the beet paste in the middle of each tortilla and cover with one of the lettuce leaf halves. Top with a couple of heaping spoonfuls of the black rice filling. Sprinkle with the grated pear and fold or roll the tortillas to create a wrap.