Very Veg: Potato Salad With Sprouted Mung Beans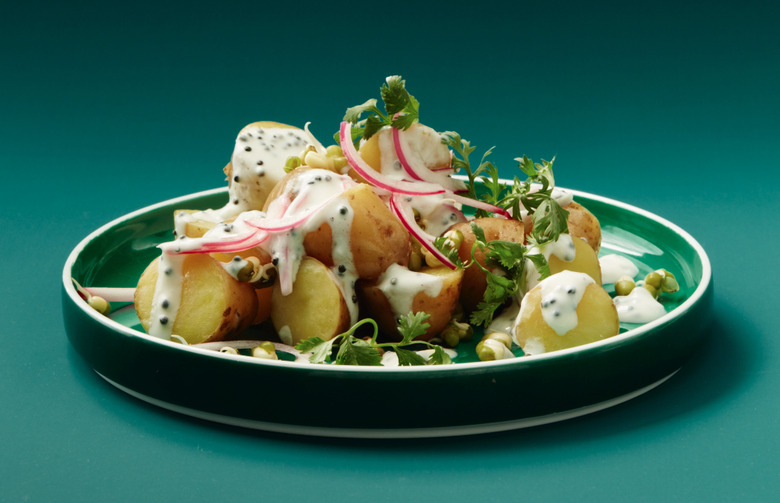 We may receive a commission on purchases made from links.
Salad for President is a collection of recipes from the blog of the same name, by food writer and artist Julia Sherman. If you've been looking for a book to shake up your vegetable game, look no further. This potato salad with sprouted mung beans packs a protein punch!
I love the idea of the classic potato salad. Tossed in mayo and sturdy enough to travel to a picnic, it is a real democratic crowd pleaser. But this is not that kind of salad book.
This recipe is my style of potato salad: Tangy with rich yogurt, crunchy with sprouted mung beans, bright with cilantro and red onion. Fried black mustard seeds, a staple in Indian cooking, taste like toasty popcorn with a slightly bitter, mustard aftertaste. They are one of my favorite spice additions, worth exploring on top of steamed rice and as a garnish on soups.
With a little planning, you can easily and affordably sprout your own beans, using a simple glass jar and a clean kitchen rag or cheesecloth (see Note). If you are short on time, you can find a sprouted legume mix at most supermarkets and health food stores (and if you can't, this salad will still be delicious with the potatoes and dressing alone).
Note: To make your own sprouts, put dried mung beans in a glass jar and cover them with cold water. Cover the top of the jar with a breathable cloth and secure it with a rubber band. Allow the mung beans to soak for 6 hours or overnight. Drain the water and cover the beans again with water, the cloth, and the rubber band. Rinse and drain the beans two more times over the next 24 hours or so, covering them in between and leaving them on the kitchen counter to sprout. After about two days, the mung beans should have grown little tails and have tripled in volume. Rinse once more and drain. The sprouted beans will keep in the refrigerator, tightly covered with a lid, for up to a week.
Very Veg: Potato Salad With Sprouted Mung Beans
Looking for a book to shake up your vegetable game, look no further. This potato salad with sprouted mung beans packs a protein punch!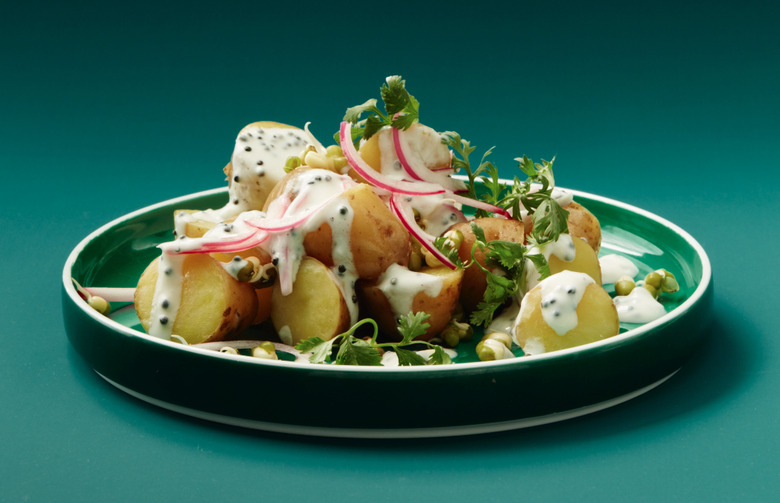 Ingredients
1/2 small red onion
sea salt
1/2 teaspoon sugar
2 tablespoons red wine vinegar
1 pound fingerling or Yukon gold potatoes
3 tablespoons olive oil
freshly ground black pepper
1 cup mung bean sprouts
2 tablespoons black mustard seeds
1/4 cup full-fat yogurt
2 tablespoons fresh cilantro leaves
Directions
Slice the onion as thinly as possible. Put it in a medium bowl, sprinkle with 1/2 teaspoon salt and the sugar, add the vinegar, and press down firmly with your fingers. Set aside to lightly pickle.
Put the potatoes and 1 teaspoon salt in a medium sauce pan and add cold water to cover by 1 inch. Bring the water to a rolling boil over high heat, then lower the heat to medium and cook for 15 minutes, or until the potatoes are fork tender. Drain and cut them into 1-inch slices. Put them in a large bowl and drizzle with 1 tablespoon of the oil; season generously with salt and pepper and gently toss to combine, trying to keep the potatoes from falling apart. Add the mung beans and set aside.
Put a small pan over high heat, add the remaining 2 tablespoons oil and the mustard seeds, and cook, covered until you hear the mustard seeds start to pop, jumping up from the pan, about 1 1/2 minutes. Remove from the heat immediately and scrape them into the bowl with the onion. Add the yogurt and whisk to combine. Spoon the dressing over the potatoes, scatter the cilantro over the top, and serve.