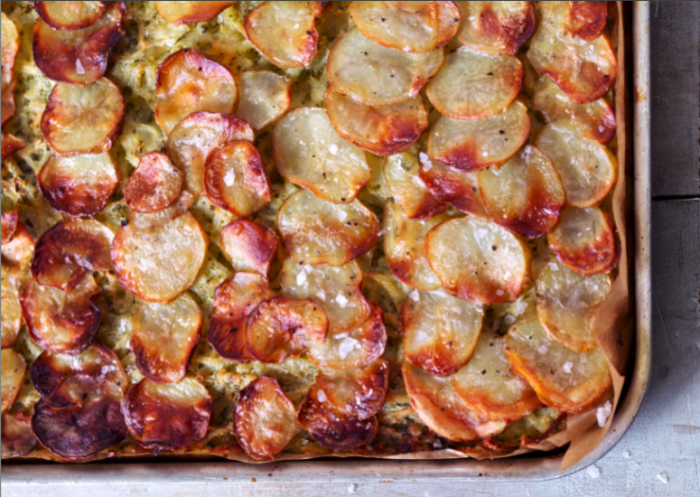 Cookbook authors Ruth Joseph and Simon Round give a tour de Jewish cuisine in their new release Jewish Traditional Home Cooking, just in time for Passover. We're looking forward to rolling out rugelach, wrapping up blintzes and churning out kreplach all year round. But we're especially excited that this year's Passover kugel has a crisp golden brown top and creamy interior.
Potato kugel has been a mainstay of traditional Ashkenazi cooking. In the past, kugels often had a leaden, gluey, grayish inside. My mission was to change that image and bring the now golden potato kugel crisply and joyfully into the 21st century.
Ingredients
2

small or 1 medium

onion, roughly chopped

2

tablespoons

olive oil

1

pound

red or Yukon gold potatoes, scrubbed and left whole

1/2

cup

fresh flat-leaf parsley

4

organic free-range eggs

1 1/2

tablespoons

lemon juice

4

pounds

baking potatoes (such as russet)

4

tablespoons

ground almonds

2

teaspoons

sugar

1

teaspoon

salt

plenty of

freshly ground black pepper
Directions
In a small frying pan, gently cook the onion in 1 tablespoon of the oil until soft but not colored.
Meanwhile, boil the red or Yukon gold potatoes in their skins for about 15 minutes until almost tender but not soft. Drain and set aside.
Scrape the softened onion into a food processor, add the parsley and eggs, and purée until smooth. Scrape into a large bowl and stir in the lemon juice. (If you don't have a processor, simply finely chop the parsley and mix with the beaten eggs and cooked onion.)
Peel the baking potatoes and grate them on the coarse side of a grater into the bowl with the lemon and egg mixture. Mix well with your hands, taking care that the potato is coated with the lemon and egg mixture; the lemon will stop the potato from oxidizing and turning black.
Mix in the ground almonds, sugar, and salt, and pour into the prepared pan. Thickly slice the boiled red or Yukon gold potatoes and arrange them over the top. Brush with the remaining oil and season with more salt and pepper.
Bake in the oven for about 1 hour until slightly puffed up and golden.
Try out these Passover recipes on Food Republic: