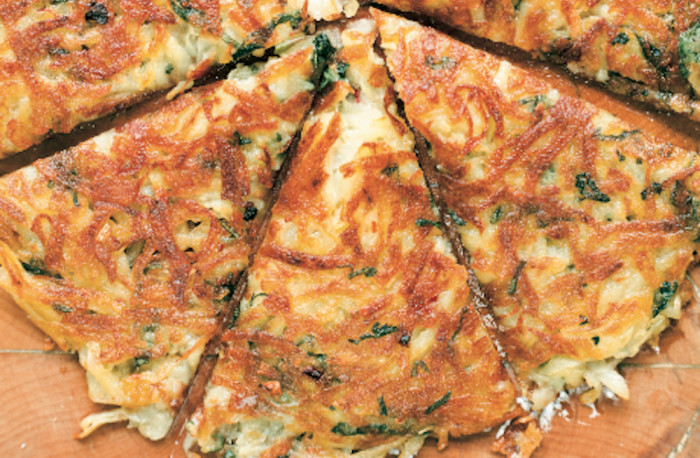 Sometimes, for a change, I add sweet potato to this recipe, but you could use carrots, parsnips— hey, why not try a whole heap of different vegetables? The cooking method remains the same. The galette should be crunchy on the outside and soft in the
middle, with a lovely sage flavor throughout.
Ingredients
6

large Yukon gold or other floury potatoes

2/3

cup

olive oil

12

sage leaves

finely chopped

1/4

pound

plus 2 tablespoons butter

Salt and pepper
Directions
Grate the potatoes coarsely. You need to work fairly fast because the potatoes will start to turn brown quite quickly and you can't rinse or store them in water, as you will wash away the starch needed to bind the galette.
Drizzle half the olive oil into a large skillet and place over medium heat without allowing it to get hot enough to smoke. Once you have grated half the potato, or enough to cover the base of the pan to a depth of 3/4 inch, mix with half the chopped sage, and pat the potato down in the pan using a potato masher—this has a wide surface area and allows you to create a really even, flat pancake.
Once the galette has begun to settle in the pan, start to add half the butter in very small pieces to the edges of the pan, letting it melt and run into the center, which will give a lovely nutty flavor to the potatoes.
Cook for 8–10 minutes, until golden brown on the underside. Gently slide the galette onto a wooden board, then place the pan over the galette and invert the board so the galette is back in the pan, cooked side up. Cook for 8–10 minutes, until the underside is golden brown and crunchy.
Remove the galette from the pan and keep warm while you 
grate and cook the remaining potato to make another galette.
Serve the galettes hot, cut into wedges.
More vegetarian recipes on Food Republic: