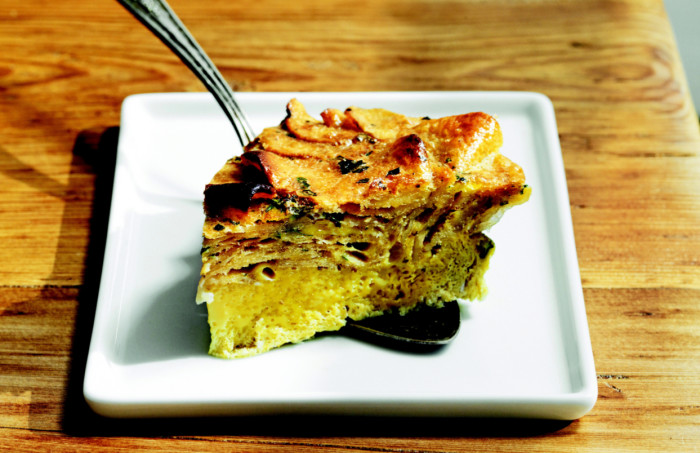 Richard Blais' new cookbook, Try This At Home, is a glimpse into the food behind the innovation, and yes — you can definitely make it all in your kitchen. This brunch recipe has a crunch factor that plays on Spanish tortilla. 
This is an American-style Italian frittata or Spanish tortilla, an open-faced omelet that's a great last-minute brunch dish. The potato chips are layered throughout yet still retain their firm texture. (You don't even need to add salt to the eggs, because the potato chips provide the seasoning.) You can enjoy this warm or at room temperature, with sour cream on the side. Or maybe you're a ketchup-on-your-eggs person.
After I came up with this dish, I saw similar versions done by José Andrés and Ferran Adrià. A good idea is a good idea no matter how many people come up with it.
Ingredients
12

large eggs

3

tablespoons

heavy cream

1/2

teaspoon

fresh ground white pepper

1

tablespoon

finely chopped fresh flat-leaf parsley

1

tablespoon

minced fresh chives

6

cups

plain kettle-cooked potato chips

2

tablespoons

unsalted butter or vegetable oil
Directions
Preheat the oven to 375°F. In a large bowl, whisk the eggs, cream, white pepper, parsley and chives together until combined. Fold in the potato chips until they are completely covered in the egg mixture, but try not to crush the chips too much. Let stand for 10 minutes, until the chips soften slightly.
Heat the butter in an ovenproof 12-inch nonstick skillet over medium-high heat, swirling the pan to coat the bottom completely, until very hot. Carefully pour in the egg mixture and spread it evenly in the pan, then immediately reduce the heat to low.
Cook until the eggs are set and the bottom is light golden, about 15 minutes. If the bottom is golden but the eggs are still runny on the top, transfer the skillet to the preheated oven and bake until the eggs are completely set, 3 to 4 minutes.
To serve, invert a large flat plate over the pan and flip the pan and the plate to invert the omelet onto the plate. Let stand for at least 5 minutes before cutting into wedges and serving.
Try out these omelet recipes for brunch on Food Republic: