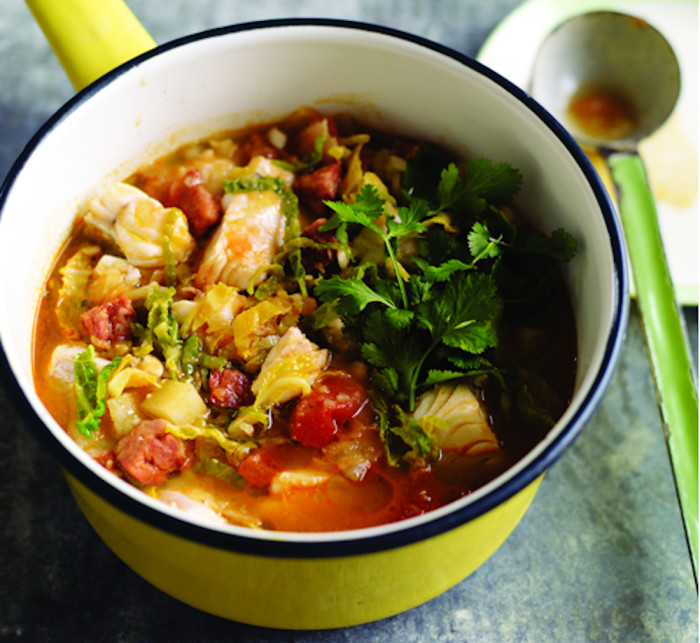 This soup's selling points are its gutsy rusticity, its ease of preparation and its affordability compared to the expense that so many fish soups can run up. It's great for all those little-known white fish fillets that greet us on the slab in the name of sustainability, which can be a deterrent when they don't come with a reference.
You are unlikely to go wrong with this soup, so it's a good time to try it out. Dish it up with hearty slabs of grilled, coarse-textured bread, splashed with olive oil.
Ingredients
3

ripe plum tomatoes

7

ounces

Savoy cabbage, outer leaves removed

2

tablespoons

extra virgin olive oil

7

ounces

chorizo sausage (cooked or uncooked), skinned, and cut into chunks

2

pounds

new potatoes, peeled and cut into 1/2 inch dice

1/2

cup

white wine

6

cups

fish stock

2

pounds

mixed white fish fillets, skinned and cut into 1-inch pieces

extra virgin olive oil and coarsely chopped cilantro, for serving
Directions
Bring a small pot of water to a boil. Meanwhile, core each tomato.
When water is boiling, plunge tomatoes into the boiling for about 20 seconds. Remove with a slotted spoon, then put in a bowl of cold water. Slip skins off the tomatoes and coarsely chop.
Slice the cabbage leaves into fine strands, discarding the tough central veins.
Heat the olive oil in a large saucepan over medium heat. Add the chorizo and cook for a few minutes, stirring frequently, until lightly browned. Pour off the fat.
Add the potatoes, stir and add the wine. Cook until wine is reduced by half.
Add the chopped tomatoes and fish stock and bring to a boil. Skim off any surface foam, and then simmer over low heat for 15 minutes. Coarsely mash the potato and season to taste with salt.
Add the cabbage, bring back to a boil and simmer for 5 minutes.
Season the fish with salt and pepper, add it to the soup and poach for 5 minutes.
Serve in warm bowls with a drizzle of olive oil and chopped fresh cilantro.