Pork Tenderloin Enchiladas With Mole Verde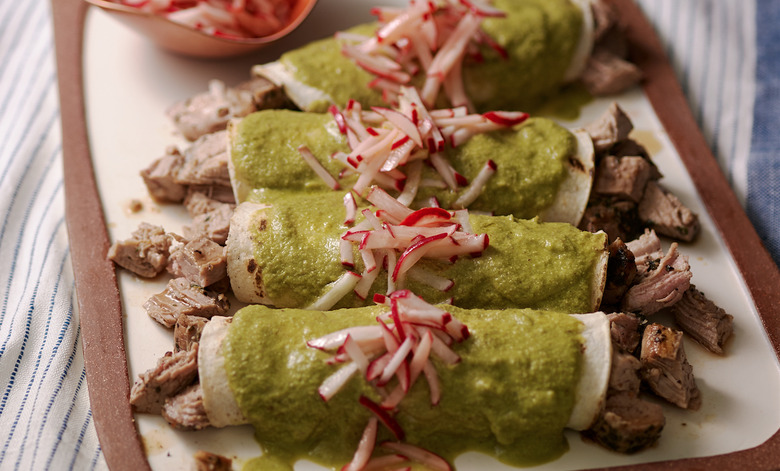 We may receive a commission on purchases made from links.
Pati Jinich has been whipping up Mexican favorites on PBS for half a decade, so when it comes to a go-to cookbook for your favorite south-of-the-border fare, look no further than her new collection, Mexican Today. Whether you're cooking for the family on a weeknight or bringing down the house for the holidays (whatever they may be), there's a recipe or two in this book to pump you up. 
Mole sauces come in many colors. There seems to be a different one for just about any occasion, each with not only a regional stamp, but a family stamp as well. This is my version of mole verde, green mole.
Mole verde, in any of its interpretations, is not as well known out­side of Mexico as mole poblano, the almost-black sauce that boasts chocolate as one of its ingredients. But I am a big fan of mole verde, made with pumpkin seeds, tomatillos, green chilies, green herbs like cilantro, and lettuce; it's much lighter than other moles, amazingly herbal and fresh-tasting.
I love using this mole for enchiladas, which I stuff with diced roasted pork tenderloin that has been rubbed with sage and garlic and garnish with pungent red radishes tossed with lime juice and olive oil. You can use the sauce in other ways, too, such as for dressing roasted baby potatoes or shredded cooked chicken or for poaching fish (right in the sauce).
Make Ahead: The mole verde can be made up to four days ahead, covered, and refrigerated. The meat can be seasoned up to 24 hours ahead of time, covered, and refrigerated. The enchiladas can be assembled and sauced an hour ahead of time; cover and keep warm in a 250-degree oven. Garnish when ready to serve.
Pork Tenderloin Enchiladas With Mole Verde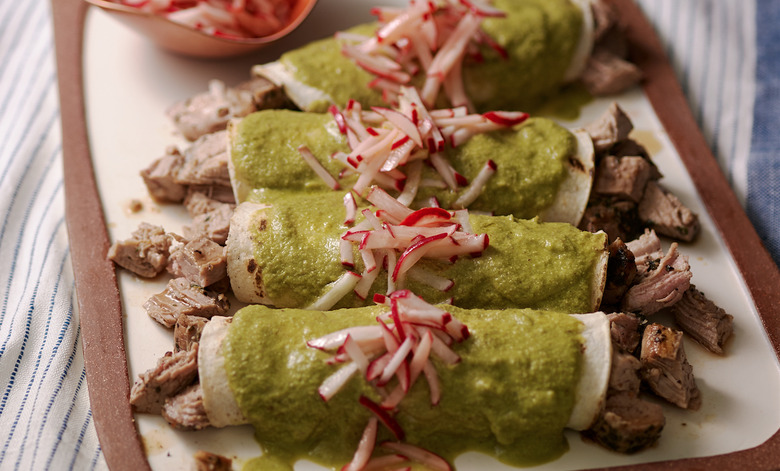 Ingredients
2 pounds pork tenderloin (1 large or 2 smaller tenderloins)
5 garlic cloves
3 tablespoons finely chopped fresh sage or 1 tablespoon dried
1 teaspoon kosher or sea salt
1/4 teaspoon freshly ground black pepper
1/4 cup plus 2 tablespoons olive oil
3 cups water
1 pound tomatillos
2 garlic cloves
2 serrano or jalapeño chilies or to taste
3/4 cup hulled raw pumpkin seeds (pepitas)
1/2 teaspoon kosher or sea salt or to taste
1/2 cup coarsely chopped white onion
3 romaine lettuce leaves
1 1/2 cups fresh cilantro leaves and upper part of stems
1 cup fresh flat-leaf parsley leaves and upper part of stems
2 tablespoons canola or safflower oil
1 1/2 cups meat juices from the cooked tenderloin or substitute chicken broth
10 to 12 good-size radishes
1 tablespoon freshly squeezed lime juice
2 tablespoons olive oil
3/4 teaspoon kosher or sea salt or to taste
12 corn tortillas
Directions
To prepare the meat: Using a sharp knife, make an approximately ¼-inch-deep slit down the length of the tenderloin(s), from one end to the other.
In a small bowl, mix the garlic, sage, salt, pepper, and ¼ cup of the olive oil. Spread the seasoning paste all over the meat, including inside the slit. Tie the meat with kitchen twine, or if you have two 1-pound pork tenderloin pieces, tie them together, one on top of the other: Cut a long length of kitchen twine and wrap it around the meat at one end, about 1 inch from the end. Tie a knot, leaving two long ends, and crisscross the remaining string over and around the meat down its length. Wrap the string around one more time at the other end and tie another knot. Although no marinating time is necessary, you can cover the tenderloin and refrigerate for up to 24 hours.
Preheat the oven to 375 degrees.
Heat a large ovenproof casserole or a deep 12-inch skillet over medium-high heat. Add the remaining 2 tablespoons olive oil. Add the tenderloin and brown on all sides, about 6 minutes.
If you used a skillet to brown the meat, transfer the meat to an oven­proof casserole or baking dish. Add the water to the casserole and roast the pork for 30 minutes. The internal temperature of the meat should be between 150 and 160 degrees. Place the meat on a cutting board, cover with aluminum foil to keep warm, and pour the meat juices into a measuring cup.
Meanwhile, to make the mole: Combine the tomatillos, garlic, and chilies in a medium saucepan, cover with water, and bring to a simmer over medium-high heat. Simmer for 10 to 12 minutes, until everything is completely cooked through and soft, and the color of the tomatillos has changed to olive green.
Place a small skillet over medium-low heat. Add the pumpkin seeds and toast, stirring often, until you hear popping sounds (like popcorn) and the seeds begin to brown lightly, 3 to 4 minutes; take care not to burn them. Immediately transfer to a bowl or plate and set aside.
Drain the tomatillos, garlic, and chilies and place in a blender (add 1 chili at first). Add the salt and puree until smooth. Add the toasted pumpkin seeds, onion, lettuce, cilantro, and parsley and puree until completely smooth. Taste and blend in some or all of the other chilies, if desired.
Heat the canola or safflower oil in a casserole or heavy pot over medium heat. Add the puree and stir well, being careful, as this sauce really likes to jump around; use the lid as a shield. Stir in the 1½ cups reserved meat juices or the broth or water, bring to a simmer, cover partially, and simmer for 15 to 20 minutes, until thickened. Stir the sauce every 4 to 5 minutes to prevent it from sticking to the bottom of the pot; if the sauce appears to be cooking too fast and sticking, reduce the heat to low. The sauce should coat the back of a wooden spoon heavily. Taste and adjust the salt. Turn off the heat and cover to keep warm.
In a small bowl, combine the radishes with the lime juice, olive oil, and salt. Mix well. The more time you give them to macerate, the better the radishes will taste.
Dice or coarsely chop the cooked pork. If the meat is cold, you can place it back in the casserole after you dice it, along with any remaining meat juices, and heat through over low heat.
If necessary, reheat the mole verde. Dip a tortilla into the mole and place on a plate. Place about ¼ cup of the diced meat across the middle and roll into a chubby enchilada. Place seam-side down on a serving platter. Continue with the rest of the tortillas and meat.
Pour the remaining mole verde on top of the enchiladas, garnish with the marinated radishes, and serve.