Chicago Cut: Pork Shoulder With White Grits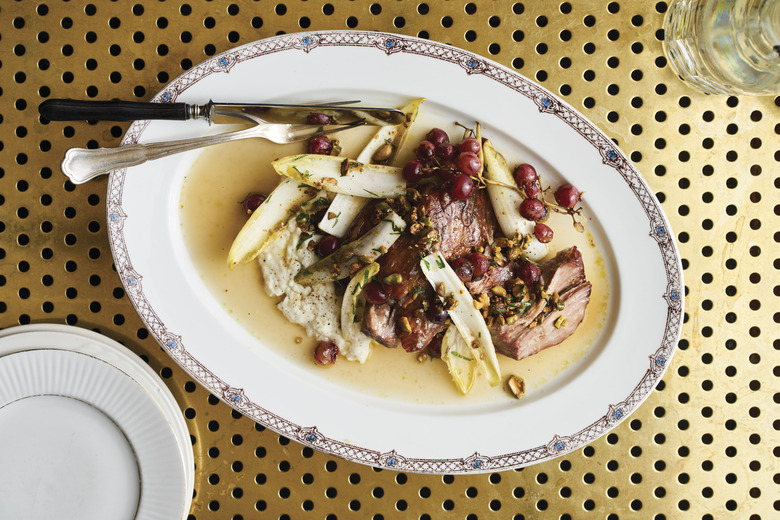 We may receive a commission on purchases made from links.
We're massive fans of award-winning Chicago chef Paul Kahan's new cookbook, Cheers to the Publican, out now. Make this pork shoulder with white grits and you won't even notice five days of marinating have gone by. 
This recipe 100 percent came from Suzanne Goin. We have differing stories, Suzanne and I, but basically we did a farm dinner in Chicago with Gabrielle Hamilton, Wylie Dufresne, and Michael Schlow and Suzanne made this dish, which she has continued to make. She confited a whole sucking pig in duck fat, picked out the meat, and pack it back together into a patty with residual duck fat. Then she cut squares of the pig skin and put them on top of the patties, so it was like a burger, served them with Tuscan kale cooked with shallots and pancetta, and finished it with a simple salsa verde. My first thought was, Oh my God. My second thought was, I'm stealing that. And my third thought was, If I ever write a cookbook, there will be a whole homage to Suzanne. We've interpreted the dish a little differently, but it's got the same fatty, hyper-meaty flavor with tons of texture.
Cosmo: At the restaurant, we take the picked meat; throw it in a hot pan to crisp it up; deglaze the pan with jus, stock, and a little knob of butter; and cook it down until maybe a touch of juice is left but most of it has gotten to that lip-smacky-tacky place. There's the crunchiness from what got crisped up and the supple meat and the glaze that it's all coated in — it's crazy.
For home-making purposes, we made it a little simpler though — don't get us wrong — it's still a time-consuming project. Don't worry; it just takes time, space, patience, and some help from your local butcher. Instead of cooking an entire suckling pig, you can confit the shoulder — or cook it low and slow in a bunch of lard — then finish it off on the grill with a shellac of tart-sweet verjus glaze, and mound it on a platter with a dandelion green salad and a hot pot of grits. It's a great recipe for having people over. Oh, and don't get fancy when it comes to buying grapes. No local, special variety farmers' market grapes will ever be as good as the ones you get from the grocery store. They might be awesome the first hour after you buy them, but then they get all mushy and don't keep that great grape crunch. We did a taste test; it's true.
Reprinted with permission from Cheers To The Publican, Repast And Present
Chicago Cut: Pork Shoulder With White Grits
We're huge fans of award-winning Chicago chef Paul Kahan's new cookbook, Cheers to the Publican, out now. Make this pork shoulder with white grits tonight!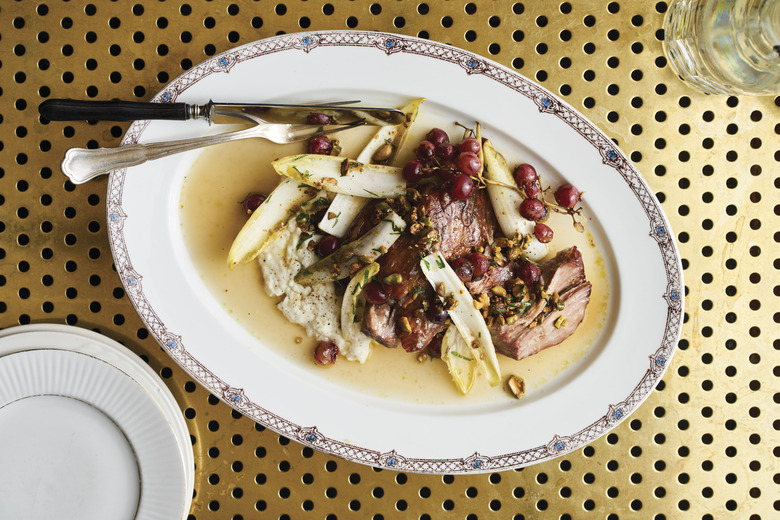 Ingredients
1 tablespoon fennel seeds
2 teaspoons annatto seeds
1 1/2 teaspoons black peppercorns
1 1/2 teaspoons pimentón de la Vera (hot smoked Spanish paprika)
1 1/2 teaspoons red pepper flakes
1/2 cup firmly packed light brown sugar
1/2 cup salt
1 (10- to 12-pound) pork shoulder
1 cup honey
1 bay leaf
3 sprigs thyme
2 teaspoons red pepper flakes
1 1/2 quarts verjus
1 quart pork stock or chicken stock
2 heads Belgian endive
2 cups shelled pistachios
4 cups red table grapes
juice of 2 lemons
olive oil
sea salt
freshly ground black pepper
1/4 cup saba White Grits
2 quarts whole milk
1 pint white grits (we like Geechie Boy Mill)
1/2 cup unsalted butter
juice of 1 lemon
sea salt
freshly ground black pepper
Tabasco sauce (optional)
Directions
:::grits:::
In a large saucepot over medium-low heat, bring the milk to a simmer. Stream in the grits while whisking and then reduce the heat to low. Slowly cook the grits, stirring every few minutes, for about 30 minutes, or until the grits are tender. Stir in the butter and lemon juice and season with salt and pepper to taste. Add a dash of Tabasco, if you want.
Serve the grits immediately, or cool them and save for later. Reheat the grits over very low heat in a wide, shallow pan, stirring in 1 to 3 tablespoons milk to loosen and keep them from burning.
:::pork:::
To make the confit, start with the spice rub: In a small sauté pan over medium heat, toast the fennel seeds, annatto seeds, and peppercorns for 1 minute, or until the oils start to release and the spices become aromatic. Transfer the spices to a spice grinder or blender. Add the pimentón and red pepper flakes and blend into a fine powder.
In a small bowl, mix the spice powder with the sugar and salt. Spread the rub evenly over the pork shoulder pieces, then transfer the pork to a covered container and refrigerate for 5 days.
When ready to confit the pork, rinse the meat under cold water until the rub is removed. Pat dry with paper towels.
Preheat the oven to 300F.
Add the pork to a large, ovenproof stockpot and add enough lard to just cover the pork. Cook over medium-low heat until the lard is hot and melted.
Cover the stockpot and transfer it to the oven. Cook for 2 1∕2 hours. The meat should be just tender enough to be pulled apart. If necessary, cook for an additional 30 minutes. Remove the shoulder from the oven and let it cool in the lard. Transfer the meat and lard to a covered container and refrigerate for up to 1 week. Remove the pork confit from the lard the day before you plan to cook it. Let the shoulder pieces sit at room temperature for about 1 hour prior to cooking. Wipe off as much fat as possible.
Meanwhile, make the verjus glaze: In a large saucepot over medium heat, combine the honey, bay leaf, thyme, and red pepper flakes and bring to a simmer. Add the verjus and stock and reduce until 3 cups of liquid remain. The mixture should be slightly thick, tacky, and still pretty tart from the verjus. Set aside 2 cups for cooking the pork and save the remaining cup in the fridge. The glaze will last for up to 1 week and is great with just about any type of pork or richer meats.
Prepare a medium-hot grill.
Place the pork confit over direct heat. Once you start to get nice char on the first side, flip the pieces and start to brush on the verjus glaze. Continuously flip and glaze the meat for a total cooking time of 15 to 18 minutes, until the outside of the meat is charred and the inside is hot. Remove the pork from the grill and set on a serving platter.
In a large bowl, combine the endive, pistachios, and grapes. Dress the salad with lemon juice and olive oil; season with salt and pepper to taste.
Mound the salad on top of the pork and drizzle saba over everything.
Serve with the pot of White Grits, along with carving knives, forks, and tongs, so everyone can pick at the meat.