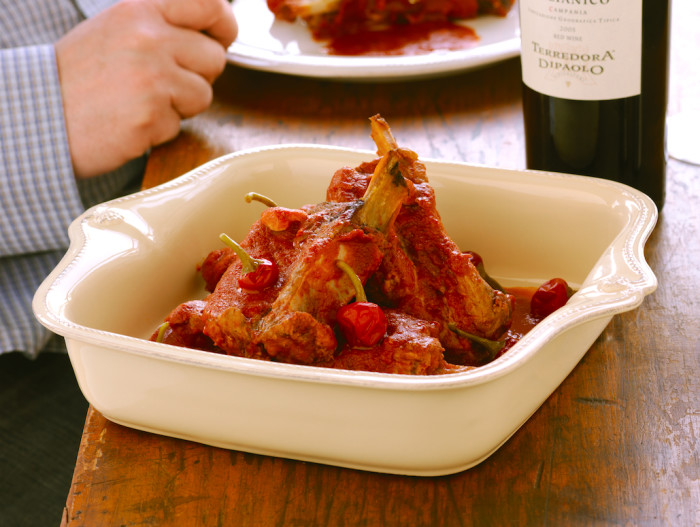 Tony Mantuano is the James Beard Award-winning chef-owner of Chicago's Spiaggia (also known as Barack Obama's favorite restaurant). But, really, what's important here is that his ribs will make you forget about barbecue sauce! This recipe is based on the flavors and aromas of Sunday dinners at Grandma Mantuano's house, where the chili pepper was king and pork not far behind. For this dish, we like thick and meaty country-style ribs best, but baby back ribs also work well.
Ingredients
1/4

cup

extra virgin olive oil

4

pounds

country-style or baby back ribs

Sea

Salt and freshly ground black pepper

8

cloves

garlic, smashed and peeled

2

24-ounce jars or cans

tomato puree

1/2

cup

pickled chili peppers
Directions
Preheat oven to 325° Fahrenheit. Place a large plate near the stove to use during cooking.
Heat a large roasting pan on top of the stove over medium heat. Add the olive oil and let heat for one minute. Meanwhile, season the ribs with salt and pepper.
Add the ribs to the pan and brown on all sides, approximately 8 to 10 minutes.
Add the garlic and brown for a minute or two.
Remove the ribs and garlic from the pan and transfer to a large plate for a moment. Drain excess fat from the pan before returning the ribs and garlic to the pan.
Add the tomato sauce, tomato puree and enough water to just cover the ribs.
Transfer to the oven and braise until the meat is tender, approximately 2 1/2 hours.
Add the chili peppers and cook for an additional 30 minutes. Meanwhile, warm a platter for serving.
Transfer the ribs to the warmed platter. Ladle the sauce and chili peppers over the ribs and serve. The ribs can be refrigerated for up to 3 days. Reheat before serving.
More recipes for ribs on Food Republic: