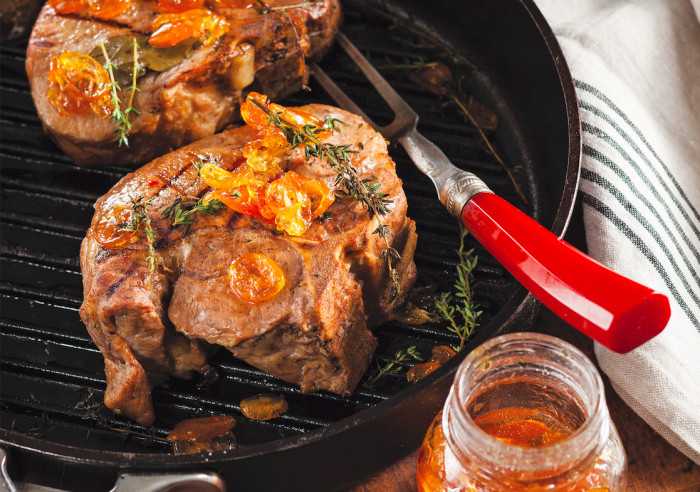 We're sinking our teeth into Southern food master and Food Republic contributor Chris Chamberlain's spectacular new cookbook, The Southern Foodie's Guide To The Pig. Suffice it to say, this beloved cuisine is centered around one animal in particular: the one country ham comes from. Packed with facts, recipes and more important hog knowledge, this book is one every lover of ham, bacon, pork, hocks, face, ears, tail and the rest of the mighty pig should own.
Reprinted with permission from The Southern Foodie's Guide To The Pig
Ingredients
Kumquat Chutney (3 cups)
2

cups

cider vinegar

1

cup

sugar

coarse salt to taste

pinch of

crushed red pepper flakes

2

cups

kumquats, thinly sliced, seeds removed
Pork
1/2

gallon

water

1/2

cup

coarse salt

1/4

cup

sugar

5

sprigs

thyme

3

whole

cloves

1/2

teaspoon

black peppercorns

1/2

teaspoon

fennel seeds

1/2

tablespoon

coriander seeds

1/2

tablespoon

whole allspice

zest of 1 orange

3

fresh or 1 dry

bay leaves

3

cloves

garlic, smashed

6

(20-ounce

1-inch-thick) porterhouse pork chops, also called center-cut pork chops

canola oil for searing
Directions
For the kumquat chutney:
Combine the vinegar, sugar, salt and red pepper flakes in a small saucepan.
Whisk together until the sugar is dissolved and simmer over medium-high heat until the liquid is reduced and syrupy, 8-12 minutes.
Add the kumquats and simmer until the mixture is thick and syrupy and coats the back of a spoon, about 20 minutes.
For the pork:
Combine the water, salt, sugar, thyme, cloves, peppercorns, fennel seeds, coriander seeds, allspice, orange zest, bay leaves and garlic in a large pot over medium-high heat.
Bring to a boil, stirring frequently to dissolve the salt and sugar.
Cool the brine completely before using.
Place the pork chops in a deep pan and cover with the brine.
Cover the pan and refrigerate for 6 hours.
Remove the pork from the brine and pat dry.
Preheat the oven to 400 degrees.
Heat a large sauté pan over high heat.
Add enough canola oil to coat the bottom of the pan in a thin layer.
When the oil begins to smoke, add the pork, one or two chops at a time, taking care not to crowd the pan.
Sear on both sides until evenly browned.
Transfer the chops to the oven and cook until the internal temperature registers 145 degrees, about 20 minutes.
Set the pork aside and let rest for 15 minutes.
Serve with kumquat chutney.
Find more pork chop recipes on Food Republic: