Pork Belly Sliders Recipe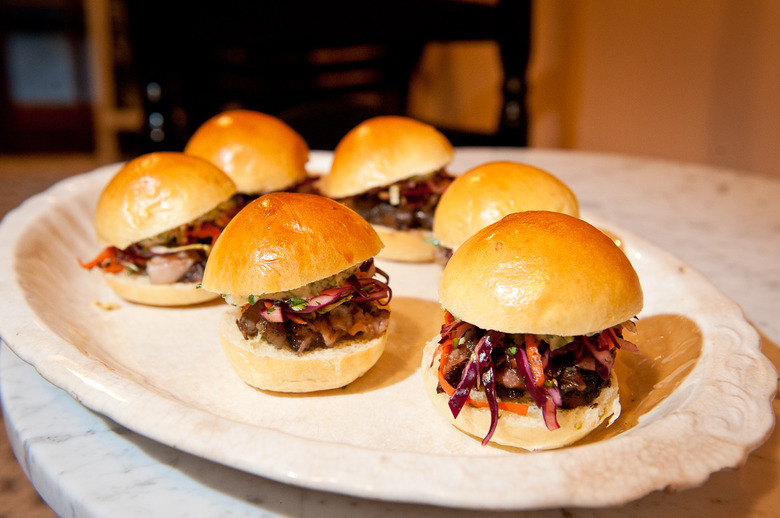 Photo: Gabi Porter
No one can deny a pork belly slider. You can put anything in a shiny little brioche bun and people will be impressed and in awe of your talents (trust me). Luckily, this version also happens to be delicious. Braising the pork takes time, but all the components can be made a day ahead and the time will be well-spent. This is a classic Chinese preparation of pork belly — I use rock sugar that I get at the Asian grocery, but you could replace it with brown sugar with basically the same result. The mushroom soy is a very dark soy sauce that is delicious and worth seeking out. If you can't find it just go ahead and replace it with regular soy.
The slaw recipe is great by itself, with BBQ, salmon or even a simple cheeseburger.
Molly Quirk is executive chef and owner of Sips & Bites Catering.
Pork Belly Sliders Recipe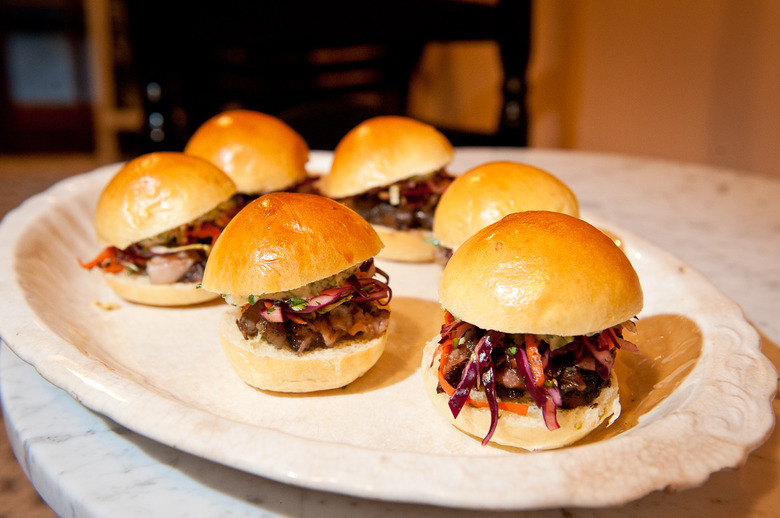 Ingredients
1/4 cup honey
1/2 cup rice wine vinegar
juice of one lime
1 tablespoon cumin seeds
1/4 cup olive oil
3 tablespoons sesame oil
1 tablespoon jalapeno
1/2 head red cabbage
1/2 head napa cabbage
2 large carrots
1/2 red onion
1 bunch cilantro
1 bunch mint
1 tablespoon white sesame seeds
1 tablespoon black sesame seeds
1 2-pound slab pork belly
2 tablespoons vegetable oil
5 shallots
1 onion
8 large slices fresh ginger root
4 cloves garlic
1/2 cup rock sugar
1/3 cup mushroom soy sauce
1/3 cup light soy sauce
1/4 cup Chinese cooking wine
2 cups water
8 pieces star anise
2 tablespoons Chinese five-spice powder
24 small brioche buns
Directions
Combine all of the vegetables and wet ingredients in separate bowls. 
Add the wet ingredients to the vegetables, cover and refrigerate up to 24 hours. 
Bring a large pot of water to a boil and place the pork belly in to boil for 20 minutes. 
Remove and allow to cool. Cut into 3-inch cubes and thoroughly dry with paper towel. 
In a heavy bottom pot melt the rock sugar and vegetable oil, stirring constantly. Once the sugar starts to caramelize and turn light brown add the pork cubes and brown on all sides.
Add the ginger, shallot, garlic, onion and fry for 8-10 minutes until vegetables soften.
Add the remaining ingredients and bring to a boil, then reduce to a simmer and cover with a tight-fitting lid.
Braise for 3-4 hours until the pork belly is tender.
Remove the pork belly from the braising liquid to a cutting board and roughly chop, removing most of the skin and some of the larger fat chunks.
To serve: split each brioche bun and fill with pork belly chunks and sesame slaw.