Pork Belly Onigiri Recipe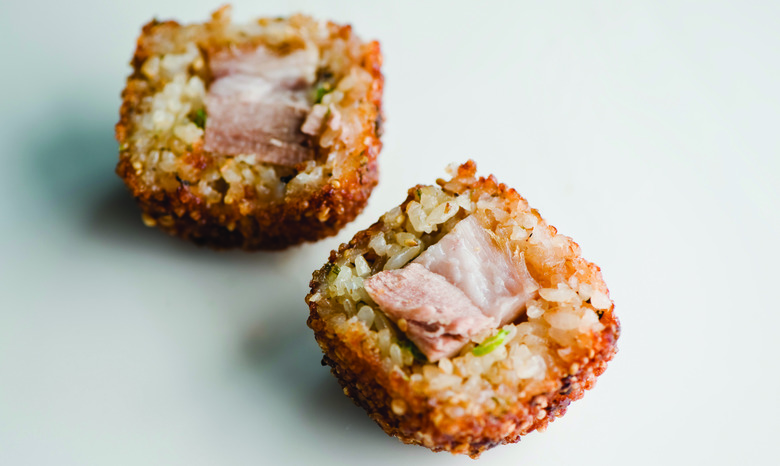 We may receive a commission on purchases made from links.
We're big fans of Uchi, well worth a trip to Austin by itself. But, you know, get tacos and stuff too. Should you have any leftover pork belly on hand, Uchi's onigiri, Japanese rice balls, are definitely the way to go. And these folks cook methodically (for good reason), so break out that scale. Oh, and you'll want this recipe for sushi rice.
Onigiri is basically a big rice ball. It's what a lot of Japanese kids eat for lunch at school. Japanese women will use leftover rice and fish or another protein and stuff it inside of a rice ball. I've made a thousand versions of this, but with the pork belly version, we mix the rice with bonito flakes and scallions for flavor. We take pork belly, press rice around it to form a ball and then we fry it. We always serve it with a sweet component for accent. It's such a surprise, crispy on the outside and soft on the inside, and people really love it.
Pork Belly Onigiri Recipe
Servings
1
tasting portion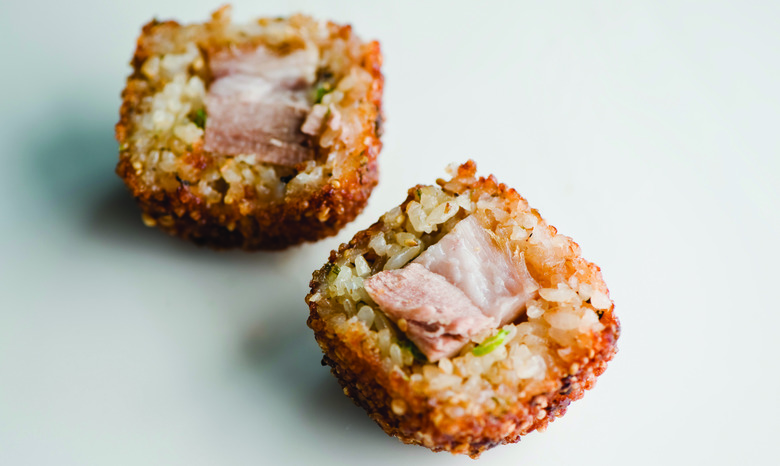 Ingredients
1 ounce pork belly
kosher salt
1/4 cup sugar
1 tablespoon Korean chile flake
1/4 cup fish sauce
1 tablespoon water
1/4 cup white vinegar
2 tablespoons negi (scallion) whites
2 tablespoons garlic
1 cup chile sauce base
1 cup plus 2 tablespoons cucumber
1/4 cup plus 3 tablespoons carrots
vegetable oil
3/4 cup plus 1 tablespoon sushi rice
1 tablespoon negi
1 pinch bonito flake
1/2 tablespoon furikake (Japanese seasoning mix commonly found at Asian markets)
a few sprigs cilantro
1/4 cup tamari
Directions
Combine the salt, sugar and chile flakes and mix well.
Combine fish sauce, water and vinegar and mix well.
Pour the vinegar mixture into the sugar mixture, and mix well.
Slice the negi whites into thin rounds, cutting across the stalk.
Peel and slice the garlic thinly, across the grain.
Add the garlic and negi to mixture, and mix well.
Refrigerate for later use.
Heat the chile base until it is warmed through but below the boiling point.
Pour the warmed chile base over the sliced cucumbers and carrots, and let sit overnight.
Refrigerate to reserve.
Preheat pan with oil to 325 degrees.
Mix the sushi rice with negi, bonito flake, furikake, white soy and sesame oil.
Mix well to incorporate flavors, being careful not to overwork the rice.
Ball the sushi rice with a 1/2-ounce portion of pork belly in the center of the ball.
Fry until the rice becomes golden and crispy and the centers are heated through.
Slice the onigiri balls in half and place on a small square plate.
Place the pickles in between the halves and top with cilantro.
Place a small ramekin of tamari on the plate for dipping.
Salt-Massaged Cucumber With Miso And Sesame Recipe
Yellowtail Sashimi On Rice Recipe
Charcoal-Grilled Yellowtail Collar Recipe