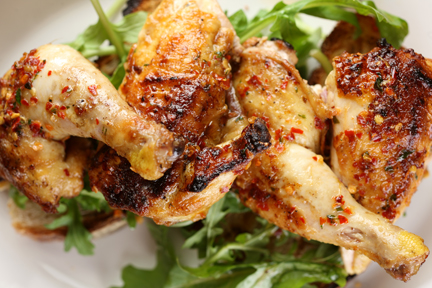 Polletto alla Diavola, or, "Devil's Chicken," is typically grilled over wood chips for an earthy, piquant smoke infusion and crisp, slightly charred skin. You can use a gas or charcoal grill with similar results. Feel free to adjust the amount of red chili flakes you use. That's where the "devil" component comes into play.
Ingredients
1

(24- ounce)

baby chicken

1

whole lemon, cut in half

1

cup

baby arugula

3

slices

rustic bread
Marinade
1 1/2

tablespoons

lemon juice

4

ounces

extra virgin olive oil

1/2

teaspoon

hot pepper flakes

pinch of

oregano

salt and fresh cracked peper
Lemon butter
4

tablespoons

butter

1

tablespoon

lemon juice

1/2

teaspoon

parsley, chopped

1/2

head

roasted garlic

1/2

teaspoon

hot pepper flakes
Directions
For lemon butter:
Soften butter in mixing bowl; add salt, pepper, lemon juice, roasted garlic, parsley and hot pepper until evenly combined.
Chicken:
Combine all marinade ingredients, pour over chicken in a baking dish, cover and refrigerate overnight.
Remove chicken from marinade and grill over low heat, alongside face-down lemon halves, brushing with oil until skin is well browned and cooked through, approximately 15 minutes; juices should be clear.
Season again with salt and pepper.
Just before serving, brush with lemon butter.
Place arugula on bottom of plate, place bread on top; place chicken and any remaining butter on top.
Garnish with grilled lemon halves.