Make This Stunning Polenta With Beet Ribbons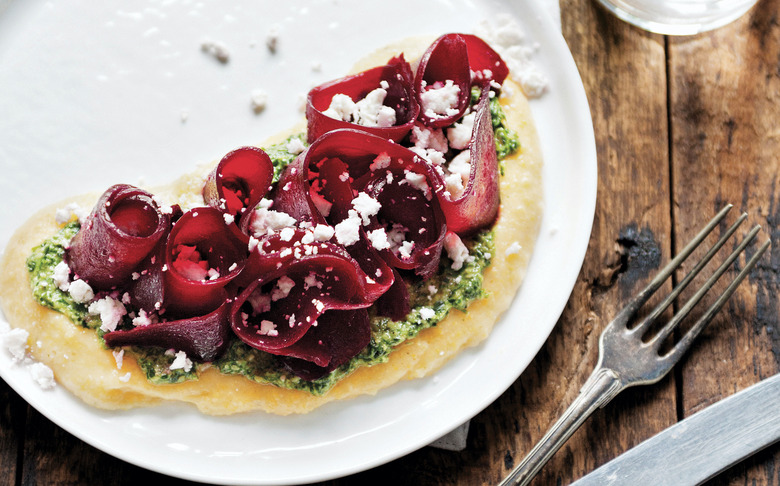 We may receive a commission on purchases made from links.
Food writer, nutritionist and cookbook author Sarah Britton has a new collection of recipes out that every vegetarian should add to their library. These dishes are packed with the kind of flavor and nutrition that keep you full and satisfied. Polenta with beet ribbons and arugula pesto is about as beautiful as a plate gets. 
If you're looking to serve something impressive and restaurant-worthy to guests, this dish is sure to fit the bill. Creamy polenta, rich arugula pesto, and sweet, earthy beets combine to create a harmonious, not to mention beautiful, meal. By simply slicing the roasted beets into thin ribbons and curling them around each other, you'll end up with such a spectacular presentation that it will look like you've been to culinary school.
There are three elements to this dish, but both the roasted beets and the pesto can be made up to three days ahead of time, so all you have to do before serving is cook the polenta, making this very doable on a weeknight when you want to put something special on the table.
Rollover: Spread leftover pesto on toasted whole-grain bread and top with a poached egg.
Make This Stunning Polenta With Beet Ribbons
Food writer, nutritionist and cookbook author Sarah Britton's polenta with beet ribbons and arugula pesto is about as beautiful as a plate gets.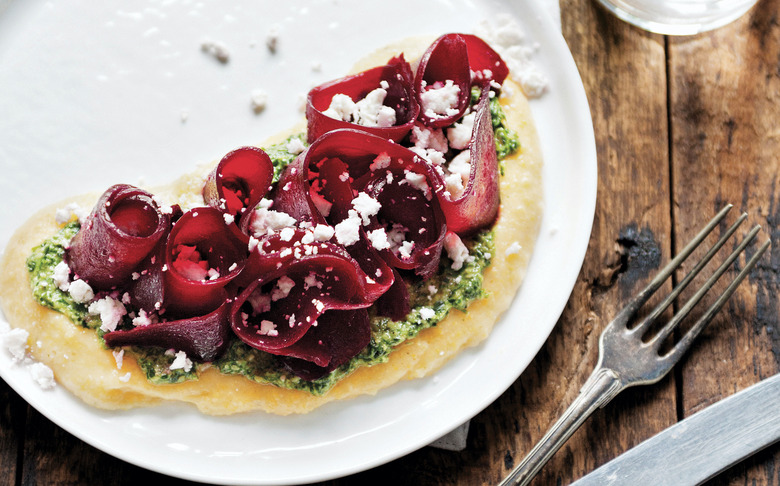 Ingredients
2 medium red beets
4 to 6 cups vegetable broth or salted water
fine sea salt
1 cup polenta (cornmeal)
1/2 cup raw, unsalted walnuts
1 small garlic clove
2 packed cups arugula
1 ounce Pecorino Romano
1 tablespoon freshly squeezed lemon juice
2 tablespoons cold-pressed olive oil
fine sea salt
3 1/2 ounces feta (preferably sheep or goat)
1 tablespoon cold-pressed olive oil
flaky sea salt and freshly ground black pepper
Directions
Preheat the oven to 400°F. Wrap the beets in foil and place them on a rimmed baking sheet. Roast for about 45 minutes. The beets are ready when you can easily insert a sharp knife into the center. Remove them from the oven, peel back the foil a little, and let them cool. When the beets are cool, slip the skins off.
While the beets are roasting, make the polenta. In a large saucepan, heat the vegetable broth and a good pinch of salt until it begins to simmer. Slowly pour in the polenta in a steady stream, whisking all the while to prevent clumping. Whisk constantly for a couple of minutes, then reduce the heat to low and cover the saucepan. Stir every 5 minutes or so until the polenta is creamy, without any grit to it, 30 to 45 minutes total. If the polenta becomes too thick, whisk in a little hot water or more vegetable broth.
While the polenta is cooking, make the pesto: Lower the oven temperature to 350°F.
Place the walnuts on a rimmed baking sheet and toast them in the oven for 7 to 10 minutes, watching them so they do not burn. Remove from the oven and let cool slightly.
In a food processor, pulse the garlic until minced. Add the walnuts and pulse to mince. Add the arugula, Pecorino, lemon juice, and olive oil, and pulse until uniform. Season with salt. (The pesto will keep in an airtight container in the fridge for up to 3 days.)
Place the peeled beets on a cutting board and slice off the ends. Using a vegetable peeler, slice the beets into strips. Set aside.
To assemble, spoon about a quarter of the polenta onto each plate and top each with the desired amount of pesto. Roll up the beet ribbons and sink them down into the pesto and polenta. Curl more beet pieces in and around the rolls until most of the polenta is covered. Crumble the feta over top, drizzle with olive oil, and sprinkle with salt and pepper.