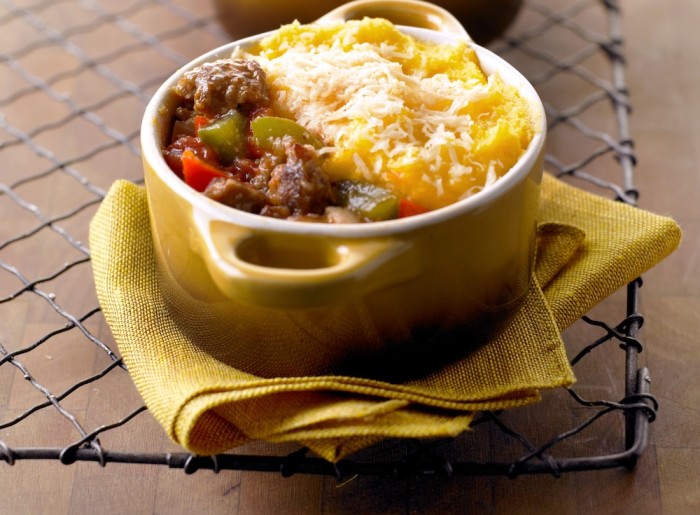 We love the combination of sausage, peppers and onions on everything, especially the legendary sandwich that has gotten us through so very many football games. Sadly, the combination — while epic — doesn't always translate into the classiest dinner fare (ahem, Jersey Shore).
Behold: sausage and peppers you can confidently make for a date or dinner shindig, while also mastering the one skill necessary to whip up instant polenta: whisking and paying attention for five minutes. Look at you, you multitasker. You get extra cheese on yours.
Ingredients
1

pound

hot Italian sausage, casing removed

1 1/2

cups

red bell pepper, chopped

1 1/2

cups

green bell pepper, chopped

1/2

cup

chopped onion

1

clove

garlic, thinly sliced

1/2

teaspoon

Italian seasoning

1

14.5-ounce can

stewed tomatoes, drained

1 1/2

teaspoon, plus 1/4 teaspoon

salt

1/8

teaspoon

4

cups

water

1 1/3

cups plus 2 tablespoons

instant polenta

1/2

cup

Parmesan cheese, grated
Directions
Preheat oven to 350°F. Grease six 8-to 10-ounce ramekins and set aside.
Heat a large skillet over medium-high heat and add sausage. Cook for about 5 minutes or until brown, using a wooden spoon to break up the meat as it cooks.
Drain off fat, then add sweet peppers, onion, garlic, and Italian seasoning to sausage in skillet. Reduce heat to medium; cook for 5 more minutes. Stir in tomatoes, salt and black pepper. Cook for about 3 minutes more. Remove skillet from heat. Stir in 2 tablespoons instant polenta.
For polenta mixture, in a medium saucepan bring the water and 1 1/2 teaspoons salt to boiling. Add the 1 1/3 cups instant polenta to boiling water in a thin stream, stirring constantly.
Reduce heat to a medium; cook and stir polenta about 3 minutes or until medium-soft. Remove from heat. Stir in 1/3 cup of the Parmesan cheese.
Divide filling among prepared ramekins. Top filling in each ramekin with about 1/2 cup of the polenta mixture. Sprinkle the remaining Parmesan cheese.
Bake uncovered for 25 minutes or until heated through.