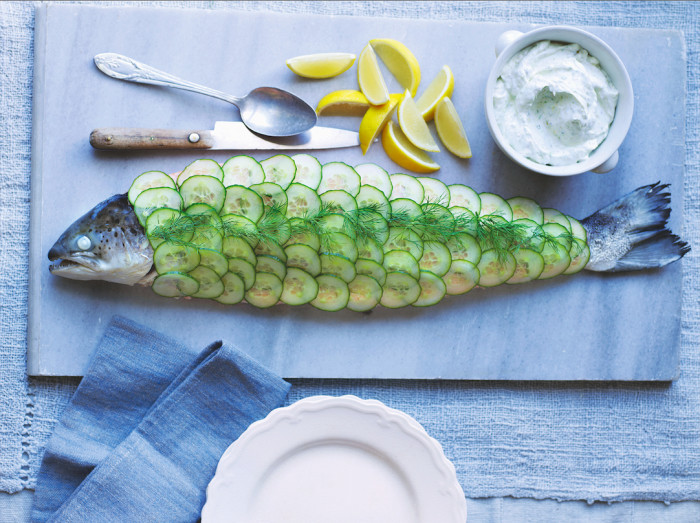 Gearing up to make Irish food? Look no further than renowned chef and author Clodagh McKenna. Her latest book, Clodagh's Irish Kitchen, updates classic Irish dishes for the global palate. 
My grandfather was a fisherman in Cobh, County Cork, and had one of the first wild-salmon fishing licenses in the county, so fresh wild salmon was a big part of my life from an early age. The season for wild salmon is a very short one in Ireland, running from June to August, and when I get my hands on my first wild salmon of the year, I get so excited about being lucky enough to cook and eat this precious king of the sea. I like to poach my salmon whole, as this method is the most delicate way of cooking the fish, and the meat just crumbles off the bone. If you don't have a fish kettle, you could cut the salmon into three parts and poach in a saucepan. I love the tanginess and freshness of the pistachio yogurt.
Ingredients
Salmon
1

whole salmon (about 5 1/2 pounds), cleaned and scaled

3

bay leaves

3

sprigs

fennel

1

lemon, cut into wedges

1

teaspoon

black peppercorns

Sea

salt
For garnish
1/2

cucumber

5

sprigs

fennel

1

lemon, cut into thin wedges

1 2/3

cups

plain Greek yogurt

2

limes, zested

1

tablespoons

pistachios, finely ground (I use a mortar and pestle)
Directions
Place the whole salmon in a fish kettle and add cold water, making sure that the water covers all of the fish. Add the bay leaves, sprigs of fennel, lemon, and peppercorns, and season with sea salt. Bring to a boil, then turn off the heat and let the salmon cool completely in the water.
Once cooled, pour the water out of the kettle and let the salmon drain free of any water. Using a paring knife or your fingers, carefully remove the skin from the salmon.
Transfer the salmon to a large serving plate. Slice the cucumber very thinly (using a mandolin if you have one), and place the thin slices along the center of the length of the fish. Garnish the rim of the salmon with sprigs of fennel and lemon wedges.
In a bowl, mix together the yogurt, lime zest, and finely ground pistachios.
Serve the salmon with the pistachio yogurt on the side.
Find more light fish dishes on Food Republic: