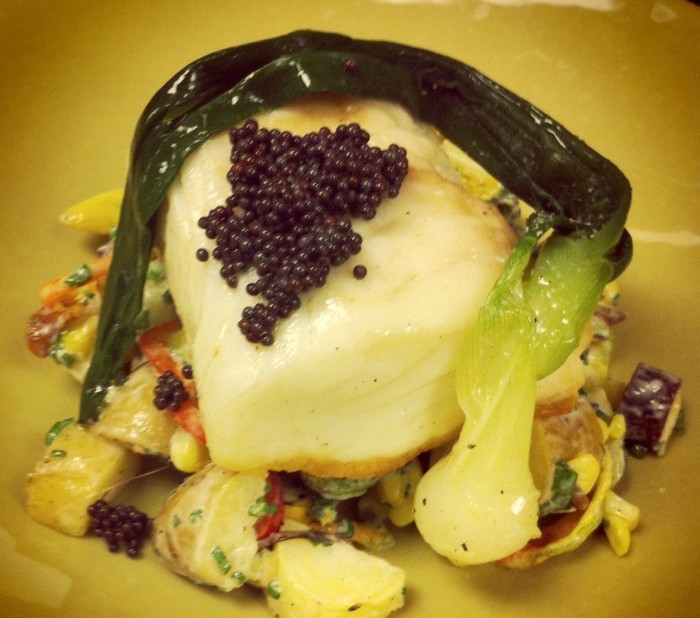 Halibut is one of my favorite fish — I look forward to flying it in fresh from the boat in Alaska whenever it is available. By preparing the halibut using this method, you can retain the natural and delicate flavor of the fish without drying it out by overcooking, which is a common occurrence. Confit-ing — or cooking in fat — is a great technique to incorporate into your skill set, since it makes perfectly prepared fish nearly "dummy-proof."
Ingredients
For the halibut
3

pounds

Halibut

4

cups

extra virgin olive oil

1

bunch

thyme

1

tablespoon

coriander seeds

salt

pepper

1/2

ounce

caviar
For the potato salad
2

pounds

baby rainbow potatoes

1

bay leaf

1

tablespoon

black peppercorns

5

sprigs

fresh thyme

5

cloves

garlic

1

yellow onion, diced and sauteed

1

bunch

scallions, sliced thin

3

calabrese peppers, seeds removed and sliced thin

1

cup

mayonnaise

1

tablespoon

red wine vinegar
Directions
Portion the fish into 6 ounce pieces and season with salt and pepper.
In a large pot, add your oil, coriander seeds and thyme. Warm up to 190 degrees and slowly put in your fish fillets. Make sure the fish is submerged in oil and if it's not, add a little more to cover.
Cook until you see the fish turning white and feels firm to the touch, approximately 10-12 minutes. Remove with a spatula onto a plate until ready to serve.
Rinse the potatoes and place them in a large pot with the bay leaf, peppercorns, thyme, garlic, and enough cold water to cover by 2 inches.
Season well with salt and bring to a boil for 2 minutes, until just knife-tender. Remove from the heat and allow the potatoes cool in the liquid. Drain the potatoes and cut in half.
Cool potatoes completely and mix with mayo, sautéed onions, calabrese peppers, scallions, and red wine vinegar. Season to taste with salt and pepper.
Finish by plating a fillet on top of a serving of potato salad and spooning a little of the caviar on top of the fish.