Pizza Rustica Recipe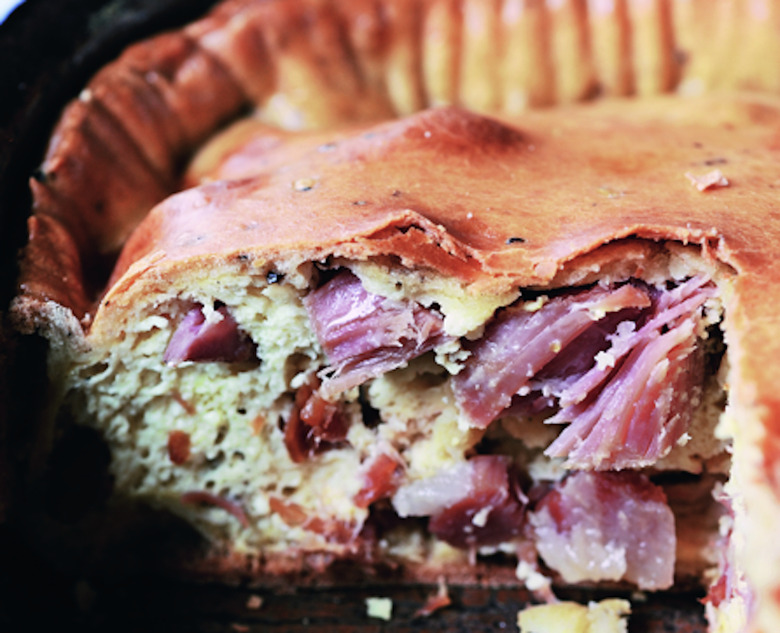 Don't mistake this as a calzone. (Photo: Alberto Peroli.
I doubt there is an Italian or Italian-American family that doesn't have at least one version of a traditional pizza rustica recipe they dust off for a special occasion. I grew up with several variations of these savory pies, served as part of the antipasto course for Christmas and Easter. My great-grandmother made her pizza rustica with salami, prosciutto and ham. My grandmother followed the same recipe, except she used only pepperoni. My mother took up my grandmother's recipe and we called it "pepperoni pie."
Here I'm reverting to Big Nonna's recipe. In any case, if it's Christmas or Easter in one of our households, you know somebody is baking a pizza rustica that will make everybody happy. It's rich, filling, delicious and very hard to put down. Beware of overeating! (I know from experience.)
Pizza Rustica Recipe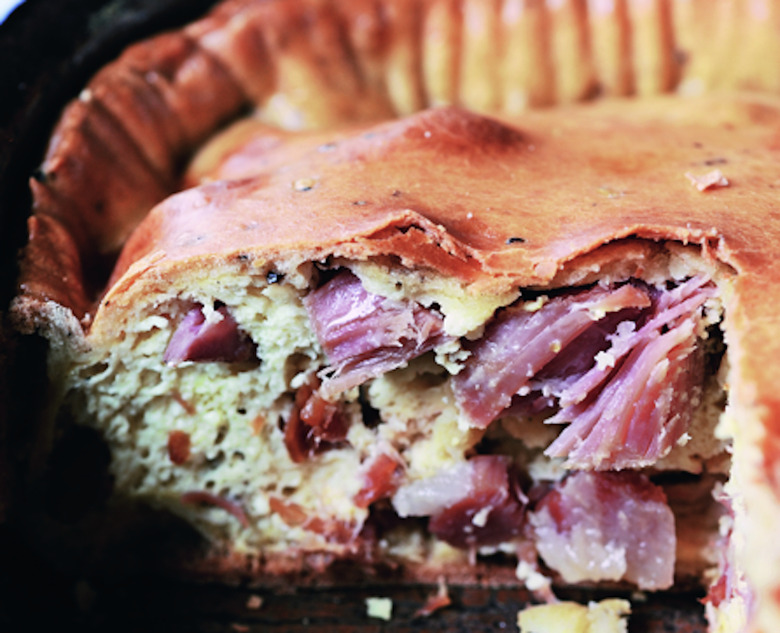 Ingredients
5 cups all purpose flour
2 teaspoons kosher salt
2 teaspoons
4 large eggs
1/4 cup cold water
4 1/2 tablespoons extra virgin olive oil
2 dozen large eggs
1 pound boiled ham (prosciutto cotto)
1 pound imported prosciutto
1/2 pound Genoa salami
3 cups Pecorino Romano
1 pound whole milk ricotta
Directions
Prepare the dough for the crust: Place the flour, salt, pepper, eggs, water,and olive oil in the bowl of an electric mixer with the paddle attachment. Beat on medium speed until thoroughly mixed, 6 to 8 minutes.
Remove the dough from the mixer, place it on a well-floured work surface, and knead by hand until smooth and malleable, 8 to 10 minutes.
Place the dough in a lightly oiled stainless-steel or ceramic bowl, cover with a kitchen towel, and set aside at room temperature for 10 minutes.
Meanwhile, preheat the oven to 325°F and lightly oil two 13 x 9-inch baking pans.
Cut the dough into four equal portions and roll each out to a 12 x 8-inch rectangle about 1/8 inch thick. Transfer one dough to each of the prepared baking pans.
To make the filling, place 10 of the eggs in a large stainless-steel bowl and beat well. Add the ham, prosciutto, salami, pecorino romano, ricotta and pepper and mix until thoroughly combined.
Divide the filling into two equal portions and spread each one evenly on top of the dough in the baking pans.
Place one of the remaining pieces of dough on top of the filling in each pan, pinching the edges of the dough together and then securing them by pinching the edges to the rims of the pans.
Beat the remaining 2 eggs and brush the top of each pie with the egg wash until well coated. Place each pan on top of a baking sheet and bake for 2 hours.
Remove from the oven, let the pies cool to room temperature, cut into wedges, and serve.