Pitmaster Chris Lilly's Smoked Lamb Ribs Recipe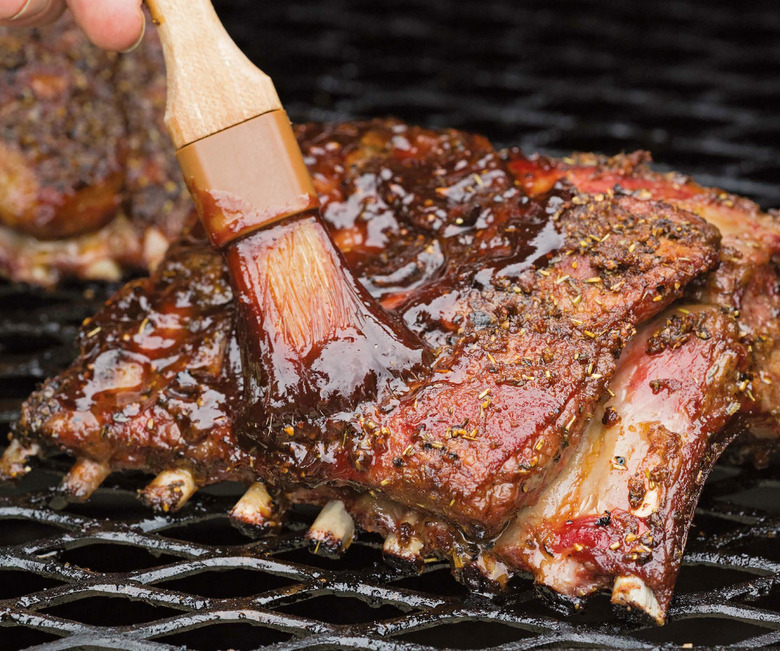 We may receive a commission on purchases made from links.
World champion pitmaster Chris Lilly makes us wish we lived in Alabama, where he heads the grill at Decatur's Big Bob Gibson's Bar-B-Cue. His new book, Fire and Smoke: A Pitmaster's Secrets is full of the knowledge you'll need to finish first in this season-long grilling contest. Yup, it's a contest. Win it with something really delicious, like these sweet smoked lamb ribs.
Also see: All Chris Lilly Wants Is For You To Get Your Pork Temperature Right
My goal for each competition is to come up with something unique. And so, here is the exact lamb rib recipe I used to win Best Lamb Ribs and overall Grand Championship at the Meatopia Bare Bones BBQ Contest at the Eat Real Festival in Oakland, California, in 2012. The seasoning paste and sauce do nothing to mask the great flavor of lamb; they only help to enhance and celebrate this bold meat. I'm giving you gold with this one!
Pitmaster Chris Lilly's Smoked Lamb Ribs Recipe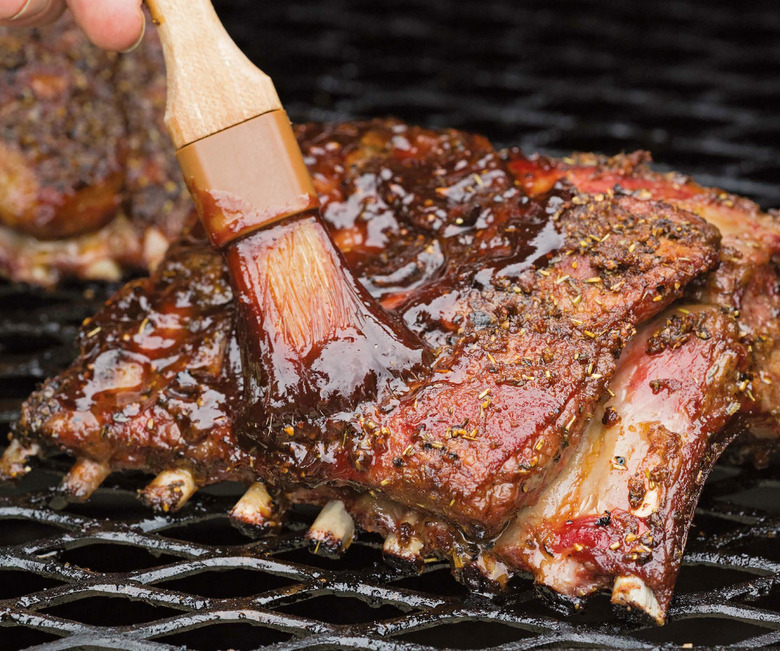 Ingredients
3/4 teaspoon dried thyme
3/4 teaspoon dried rosemary
3/4 teaspoon dried oregano
2 tablespoons extra virgin olive oil
1 1/2 teaspoons soy sauce
3 1/2 teaspoons salt
3 teaspoons paprika
2 teaspoons freshly ground black pepper
2 teaspoons garlic powder
3/4 teaspoon ground ginger
3 (2 1/2-pound) slabs lamb ribs
1 1/2 cups port
3/4 cup black cherry juice
4 Black Mission figs
1 sprig rosemary
1 cup distilled white vinegar
3/4 cup plus 2 tablespoons Heinz ketchup
1 teaspoon honey
3/4 cup dark brown sugar
1 tablespoon chili powder
1 3/4 teaspoons kosher salt
1 1/4 teaspoons freshly ground black pepper
1/2 teaspoon cayenne pepper
Directions
In a medium saucepan, combine the port, black cherry juice, figs and rosemary.
In a separate medium saucepan, combine the vinegar, ketchup, honey, brown sugar, chili powder, salt, black pepper and cayenne.
Bring each pan to a boil over high heat.
Reduce the heat to medium and simmer both mixtures, stirring occasionally until each is reduced by half, about 30 minutes.
Remove the pans from the heat.
Remove the figs and rosemary from the port mixture and discard.
Pour the port mixture into the vinegar mixture.
Use immediately or store in an airtight container in the refrigerator for up to 2 weeks. Recipe yields 2 1/4 cups.
Build a charcoal fire for indirect cooking by situating the coals on only one side of the grill, leaving the other side empty. Preheat the grill to 250°F.
Lightly chop the thyme, rosemary and oregano.
Put the herbs into a small bowl and add the oil, soy sauce, salt, paprika, black pepper, garlic powder and ginger.
Mix well until a paste forms.
Apply the paste evenly to each lamb slab.
Put the lamb ribs over indirect heat, away from the coals, close the grill lid, and cook the ribs until they are dark brown and tender, about 3 hours 30 minutes.
Remove the ribs from the grill and generously coat them with the barbecue sauce.
Return the ribs to indirect heat, close the grill lid, and cook until the sauce caramelizes, about 10 minutes.
Transfer the ribs to a cutting board and let them rest for 5 minutes.
Cut the ribs between the bones and serve.
Crown Maple Bourbon Glazed Short Ribs Recipe
BBQ Pork Ribs Recipe
Coffee-Braised Short Ribs Recipe