French Fare: Pistachio And Beet Salad With Goat Cheese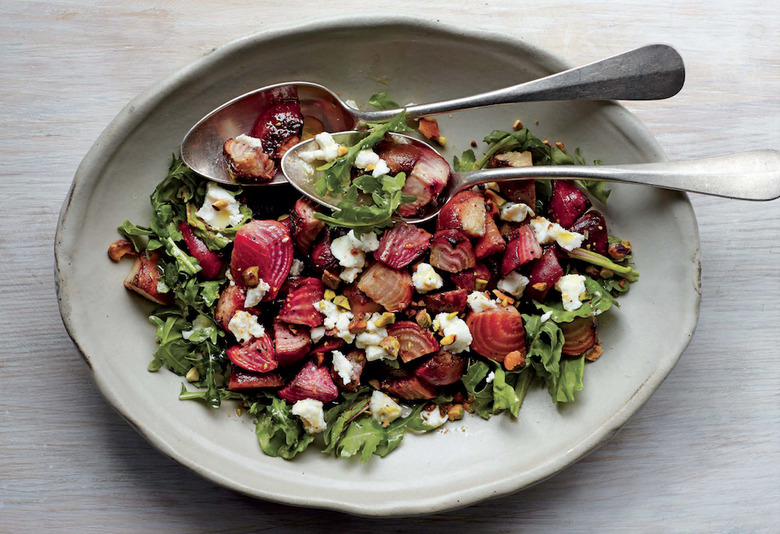 We may receive a commission on purchases made from links.
James Beard Award winning food writer and recipe developer Georgeanne Brennan turns to her adopted home of Provence, France for her latest collection of dishes you'll want to cook immediately. This pistachio and beet salad with goat cheese is a classic vegetable dish you can dress up or down for any occasion. 
Pistachios have become popular in France, as has good pistachio oil. The quality of the oil can be verified by its golden green color; it should also be redolent at first whiff of the taste of pistachios. When drizzled over sweet roasted beets and paired with nutty arugula, the match seems just right. If you want to make this a main-course salad, add thin slices of smoked duck breast, a little more oil, and just a tiny bit more sea salt.
French Fare: Pistachio And Beet Salad With Goat Cheese
Pistachio and beet salad with goat cheese hits on all cylinders: it's crunchy and savory and salty and you should make it right now. Here's how.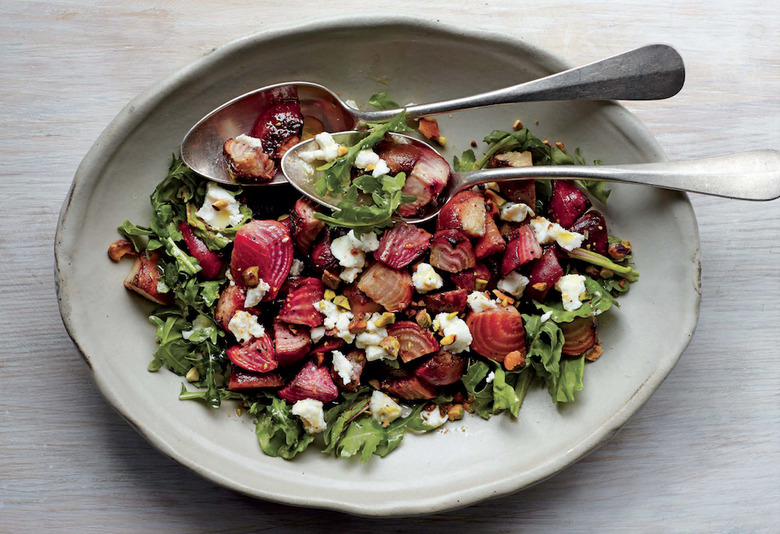 Ingredients
6 beets
1 1/2 tablespoons extra-virgin olive oil
1/2 teaspoon coarse sea salt
15 young arugula leaves
3-4 ounces soft goat cheese
1/2 cup pistachios in the shell
2 tablespoons pistachio oil
Directions
Preheat the oven to 350°F. Line a baking dish or rimmed baking sheet with aluminum foil.
Cut off the beet tops. Trim off and set aside a few of the smaller leaves for adding to the salad and reserve the larger leaves for another use. (They are excellent braised, for example.) Scrub the beets, quarter them lengthwise, and then halve them cross­wise. The pieces should be bite size. Arrange the beets snugly in a single layer in the prepared baking dish. Drizzle with the oil, sprinkle with the ½ teaspoon salt, and turn several times to coat.
Roast, turning several times, until tender and easily pierced with the tines of a fork and a bit crispy on the edges, 45–60 minutes. Set aside to cool to room temperature.
Arrange the arugula and reserved small beet leaves on 4 salad plates. Divide the beets evenly among the plates, crumble the goat cheese over the top, and finish with the nuts. Drizzle 1½ teaspoons of the pistachio oil over each salad and sprinkle with salt. Alternatively, arrange the salad on a single platter and serve family-style. Serve at once.