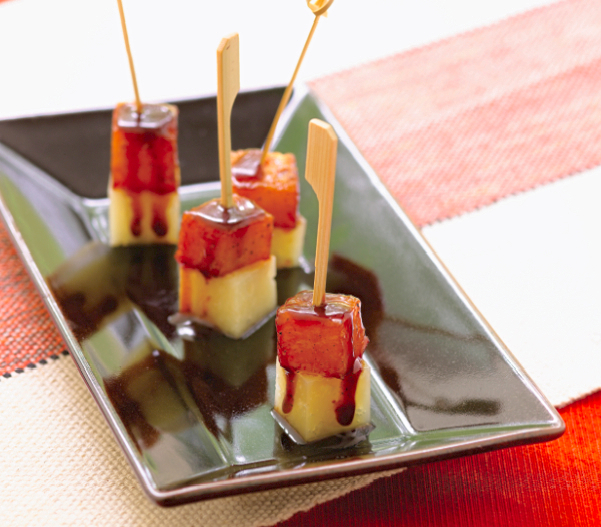 This is a very simple appetizer with an undeniable elegance, perfect for a last-minute get together. It's refreshing and perfectly balances the soft, sweet pineapple and the firm, nutty, salty Manchego— Spain's most famous sheep's milk cheese. In Brazil, I made this dish with Gouda, but once I tried it with Manchego, I never looked back.
Look for an aged cheese, which will have a deep, buttery feel. To make a nice presentation, cut the fruit and the cheese into perfect squares of the same size. Save the trimmings for another recipe, or just snack on them like I do. Try to find some nice-looking skewers because this presentation relies on the sum of its very few parts. I like the bamboo ones sold in Asian specialty stores.
Ingredients
1/2

pound

fresh pineapple, peeled

6

ounces

Manchego, at room temperature

2

tablespoons

sugar

1

tablespoon

water

2

tablespoons

salted butter

pinch of

ground cinnamon

pinch of

ground chipotle

Kosher salt and freshly ground black pepper

20

small

bamboo skewers
Directions
Cut the pineapple into 1/2-inch cubes using a serrated knife. Cut the Manchego into cubes about the same size. You should have about 20 pineapple cubes and 20 Manchego cubes.
Place the sugar in a small skillet and add the water. Cook over high heat until it turns into a light amber color, 2 to 3 minutes. (Since this a very small quantity it can be easily overcooked, so watch carefully.)
Add the butter and swirl the pan around. Everything will splash and bubble, so be careful. When the butter is well blended with the caramelized sugar, turn the heat to low and add the cinnamon and chipotle. Cook the caramel, whisking constantly, until it gets a little thicker, about 2 minutes.
Add the pineapple squares and swirl the pan around, allowing the pineapple to caramelize in the sauce and become lightly golden brown, but don't let it get too mushy, 3 to 4 minutes. Season with salt and pepper.
Pour the pineapple and sauce onto a flat plate. While the fruit is still hot, place a piece of pineapple on the skewer, then a piece of Manchego. Place the skewers on a serving plate and serve immediately, while the pineapple is still warm.
Choosing cheese: This appetizer lends itself to many different types of cheeses and is a great way to try something new since you don't need to buy a lot. Cheeses that can be used instead of Manchego are Roncal or Queso Zamorano from Spain, or Terrincho Velho from Portugal.
More skewered bites on Food Republic: