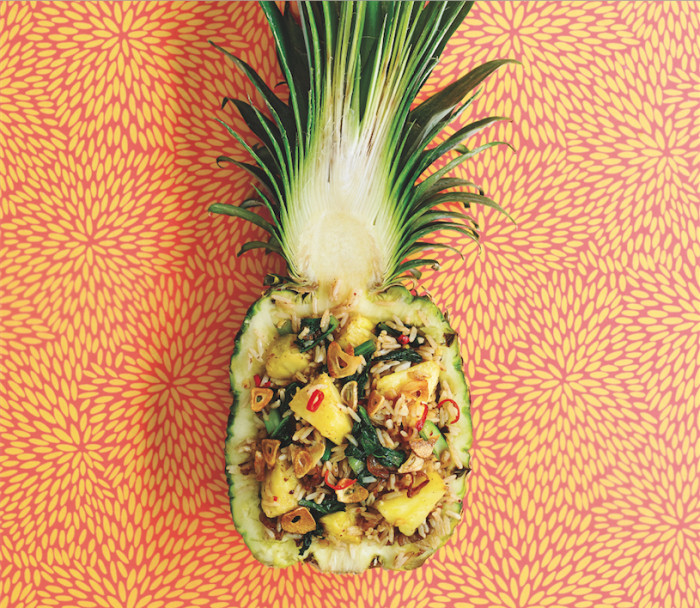 Can't bring yourself to make the same old pot of rice again? Pick up a copy of Posh Rice, a new cookbook by recipe developer Emily Kidd, and refresh your repertoire with 70 awesome and budget-friendly recipes for this delicious staple enjoyed around the world. This pineapple, ginger and XO fried rice makes the best use of Chinese XO sauce, a spicy seafood condiment that packs an umami wallop. 
Serve this Chinese- and Thai-inspired side in pineapple halves for a bit of fun.
Ingredients
1 1/4

cups

jasmine rice

1 1/2

tablespoons

XO sauce

2 1/2

tablespoons

light soy sauce

1 1/2

tablespoons

coconut oil

3

garlic cloves, thinly sliced

2

banana shallots, sliced

1-2

red bird's eye chilies, thinly sliced

1

1-inch piece

ginger, peeled and finely chopped

7

ounces

choy sum or bok choy, finely chopped

1/2

ounces

fresh pineapple chunks

Salt and freshly ground black pepper
Directions
For the fried rice
Cook the rice in salted water according to the packet instructions. Leave to cool and chill until cold, ideally overnight.

Stir together the XO and soy sauces and set aside. Heat the oil in a large frying pan or wok over a medium-high heat. Fry the garlic until crisp, then remove using a slotted spoon and set aside. Add the shallots to the oil and fry for 3-4 minutes until golden. Add the chilies and ginger and stir for 1 minute, then throw in the choi sum and fry for 2 minutes until the stalks are tender. Spoon in the sauce mixture and let it sizzle, then add the rice and pineapple. Stir until coated and hot through. Taste and season if needed, then top with the crispy garlic before serving.